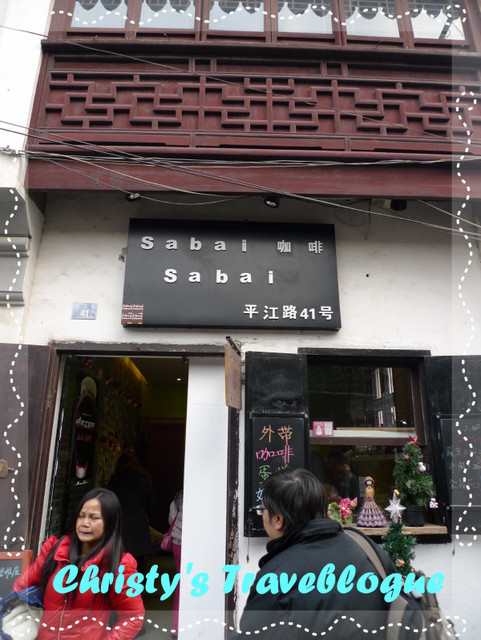 Of the many interesting residents on the historical Ping Jiang Road,
Sabai Sabai Cafe
is just another to add to the list.
The cafe offers a place to chill and relax after traipsing the cobbled streets and waterfront of the well-preserved heritage street, with its welcoming interior and aromatic whiff of the different types of iced and hot coffee constantly brewing in the pot.
Like most of the other shops on Ping Jiang Lu, Sabai Sabai is a gem residing in the many ancient (probably dating back to pre-war) wooden Chinese shophouse.
The interior of the shop maintains the many Chinese elements in its design; but yet is a home to a unique collection of South East Asian and African inspired mementos making their marks on the walls of the cafe.
Though running on the nature of a coffee shop or cafe which thrives on the business of selling coffee, Sabai Sabai also offers delicious treats for snacks and tea breaks like cakes; being most famous for their cheesecakes and tiramisu.
The selection of coffee varies from the most simple and typical found on the streets, and expands to involve selections that may astound even Starbucks and Coffee Bean. Of course, there are also other beverages which include tea, juices and soft drinks but my observation tells me that most locals and tourists alike did not leave the cafe without a cup of coffee in their hands.
If you are a coffee lover, you will love this shop; and may even have a hard time picking which of the coffee you would like to try for that day.
The place also offers a relaxing environment for one to just chill and lounge in the afternoon; with its wide selection of magazines and reading materials, and also games.
The space within the shop may be small, and cramped if more than five customers walk in at the same time, but Sabai Sabai is still a unique place for one to explore with much to offer from its brewing coffee pots and walls.