It is about time that I start to blog about my trip early this year to Phuket; a little tourist island on Thailand which has been so commercialized as one of the top cheap tourist spots by low cost air carriers like Air Asia and Fireflyz.
It was a company-organized trip; and it was especially deserving for our team who won the World's Best Team with Dynamic Growth for the Fiscal Year 2008/2009 and we were awarded the trophy of cash award Euro2,500 by our headquarters in Germany.
It was truly a proud moment for our team and we decided to splurge it on a trip for the whole team to fly to Phuket for a 3 days 2 nights getaway!
The team from Penang flew in on Fireflyz; while our team from KL arrived on Air Asia.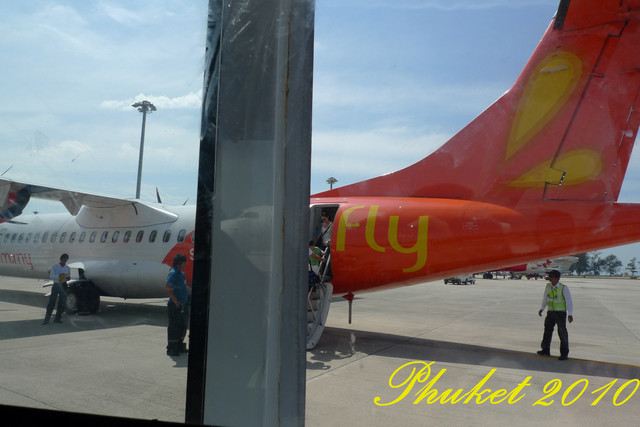 It was a noon flight and we were supposed to arrive in Phuket by 2.30p.m.
What we did not expect was the LONG QUEUE in the small airport in Phuket upon arrival; which by the way resembles our little Penang airport from the exterior.
The immigration process took so long and we were standing in the queue for more than 1 hour!
No kidding, there was such a long wait and I don't know, perhaps it was the peak period to travel to Phuket then, as we saw a few tour groups around as well.
Needless to say, I didn't have a very good impression of Phuket even before I started my vacation here.
By the time we got through the Immigration, etc, it was almost 3.30p.m, and we waited for our cab to pick us up to bring us to the hotel.
Since we were in a big group of 10, we chartered a big van to ferry us to our hotel in Patong.
I was looking for the safety belts when I got into the car, and surprisingly, they don't have one in the passenger seats at the back..LOL!
Guess I was getting too used to our regulations in Malaysia!
Our journey to the hotel, or rather, guesthouse (recommended by one of my colleagues) took 30-45 minutes.
Halfway through the journey, the driver stopped his car at a tour agency outlet, and I was wondering whether he was unsure of the directions to our destination.
Turns out, it was a plan between him and the local tour agencies, as informed by my colleague, in earning that extra commission when they recommend tour agencies to the tourists.
I didn't like it, so even worse impression of this place and the people.
When we finally arrived at our guesthouse, which was a brand new Birdcage Guesthouse in Patong, we were exhausted, not to mention Starving!
We refreshed ourselves and went out on foot (our guesthouse was right smack in the middle of town and surrounded by all shops, stalls and restaurants.
We had our late (very late) lunch at this restaurant, which coincidentally was operated by a man from China.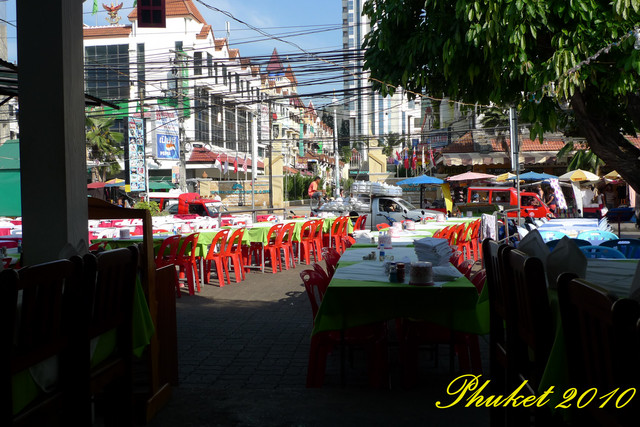 So much for Thai food served by Chinese =P
Coconut water is definitely a must during an island vacation and especially during a HOT weather!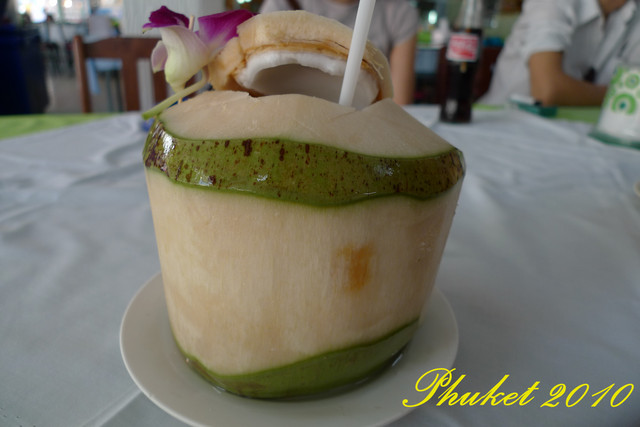 We went ala-carte, ordering fried rice of our own choice since it was the fastest meal available.
Interesting food?
Not really, when the variants of your fried rice from your neighbor's is only between seafood or chicken, but we really do not have a choice.
It is too early for dinner, and we just need to grab a quick bite.
Seafood Fried Rice (90 Baht)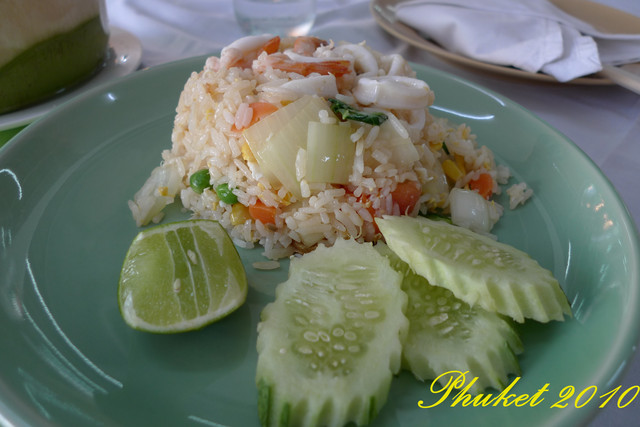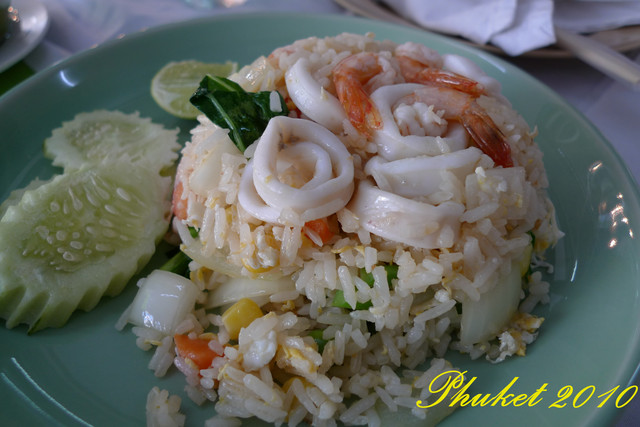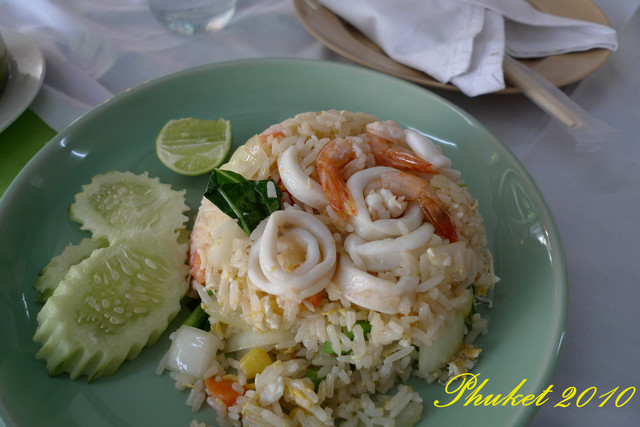 Chicken Fried Rice (90 Baht)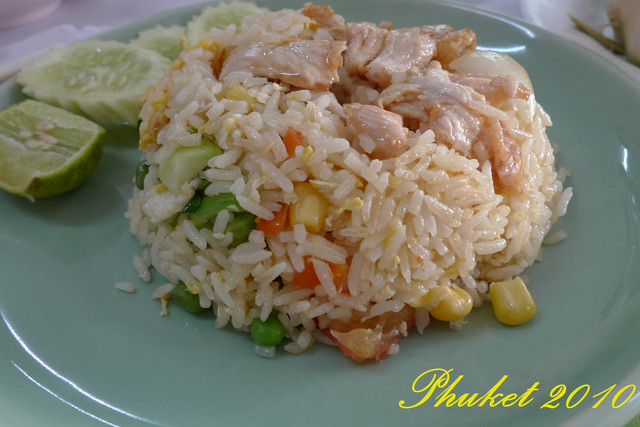 What is a meal in Thailand without their signature Tom Yam Goong?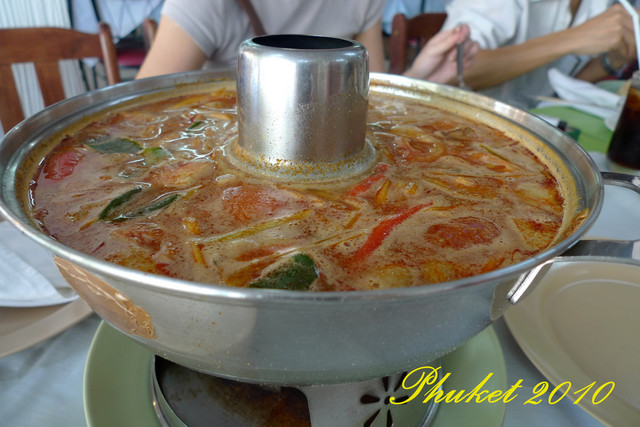 This one is definitely not worth it, it was without much taste. I think even our Tom Yam in Penang or Alor Star is better than this one.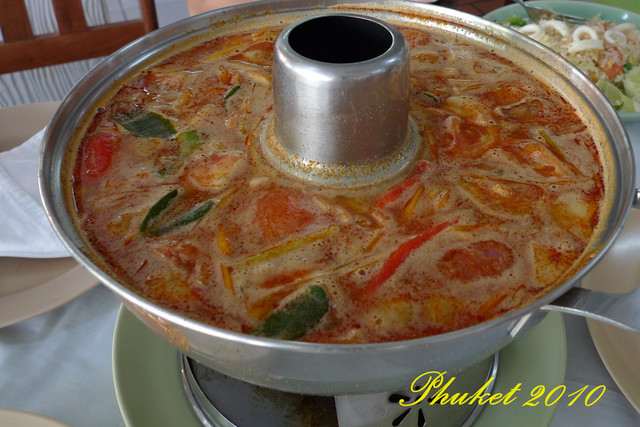 The boss was quite nice though; seeing we are all Chinese as well, he decided to give us a treat by giving us complimentary fruits at the end of our meal.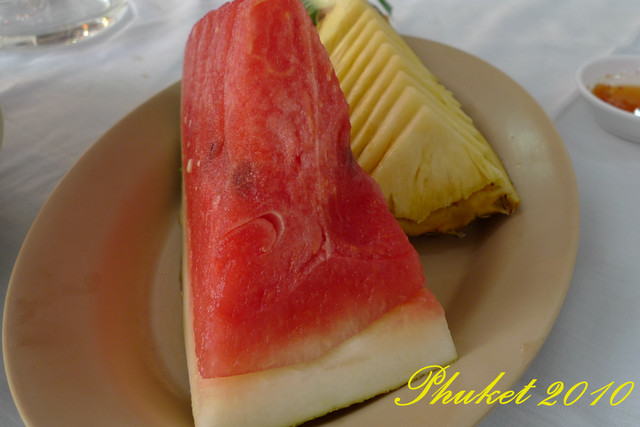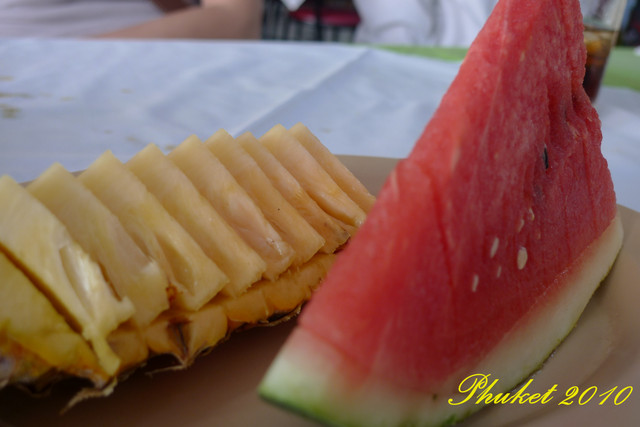 However, I think the meal is expensive as for 10 people having fried rices and 2 Tom Yam Goong, it came up to about 1500++Baht (~MYR150)
After our meal, we went out for our own leisure activities until our dinner meeting at 8pm local time.
Thailand is an hour behind us; but the sun was shining so brightly even at 5pm local time.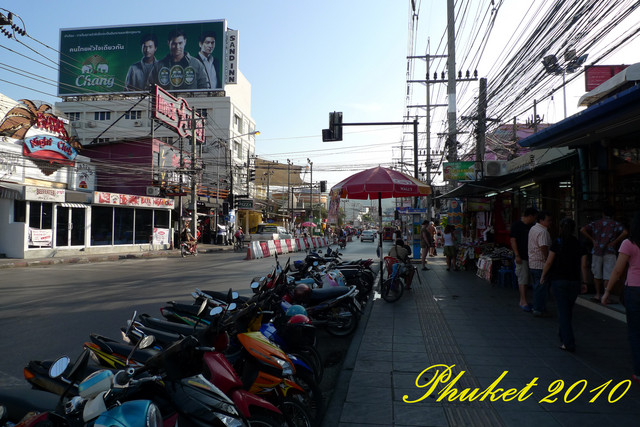 We walked around the streets; it is a pretty small area; with a few streets and you can see nightclubs and pubs everywhere.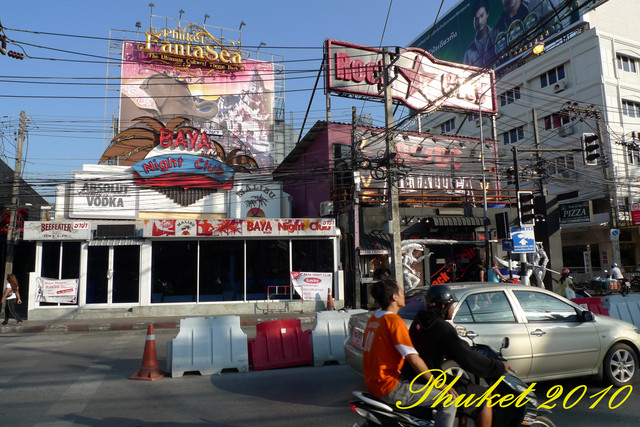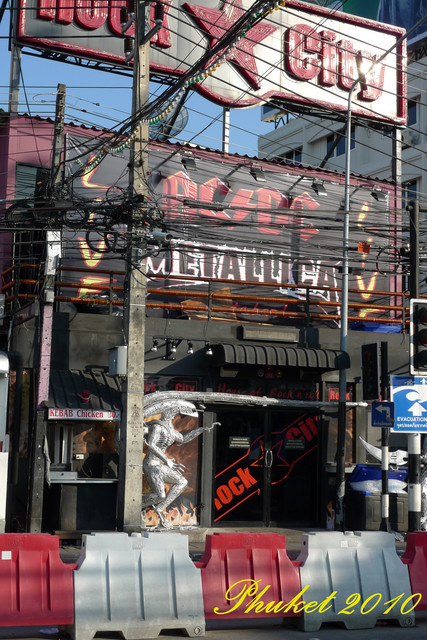 The common mode of transportation around here is scooter, since it is a small place.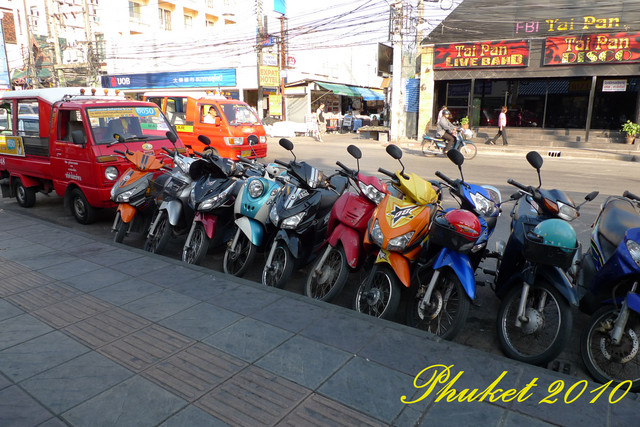 Metal craft seems to be quite popular over here too as I have spotted a few shops around here selling the same things.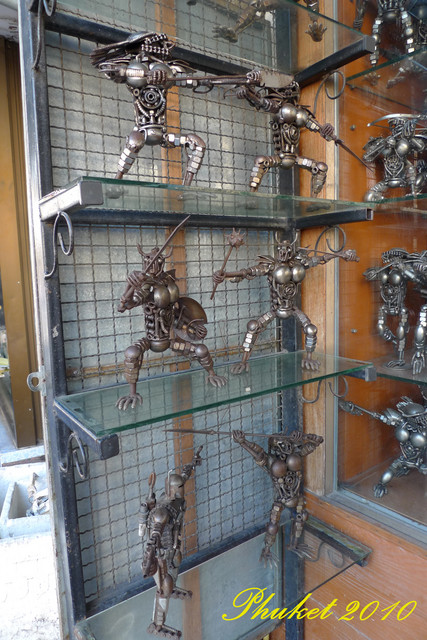 All the tourists are captivated by the unique craft and stopped to take photos.
I was happiest to spot their local shopping mall as well and longed to step into it.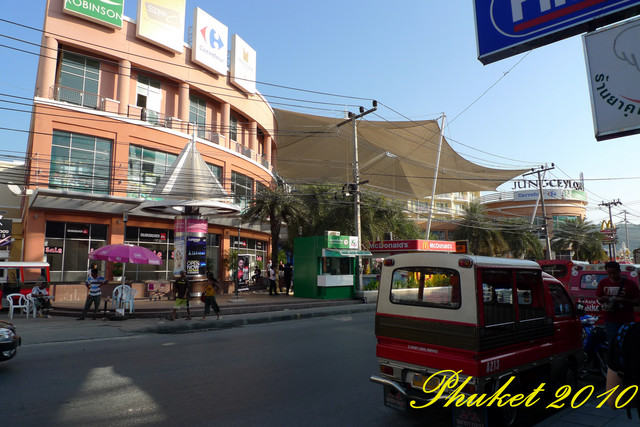 Their local cab to get you from one place to another; short distance, also known as Tuk Tuk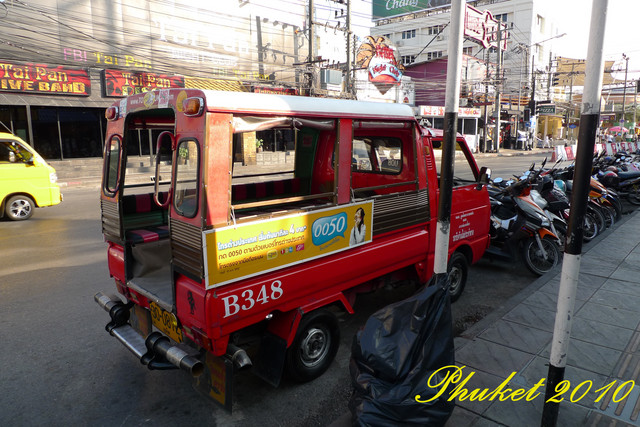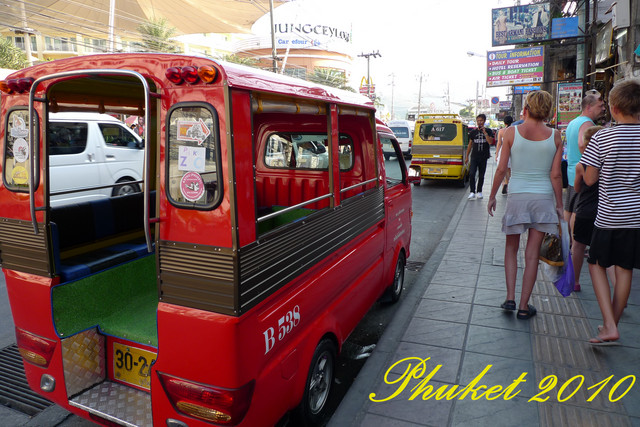 This is also another common item here; beautiful decorative items.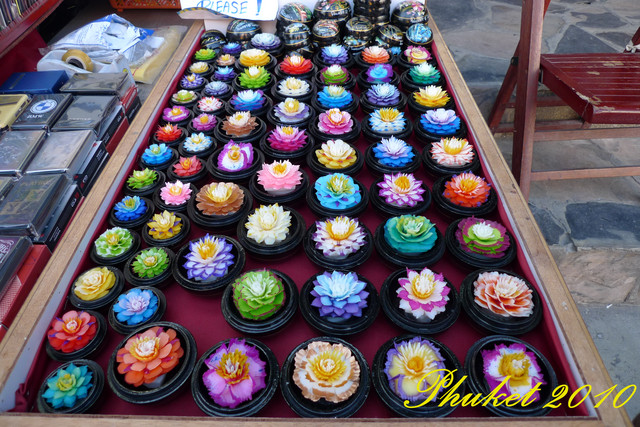 In fact, it is actually carved soaps and is really popular around here.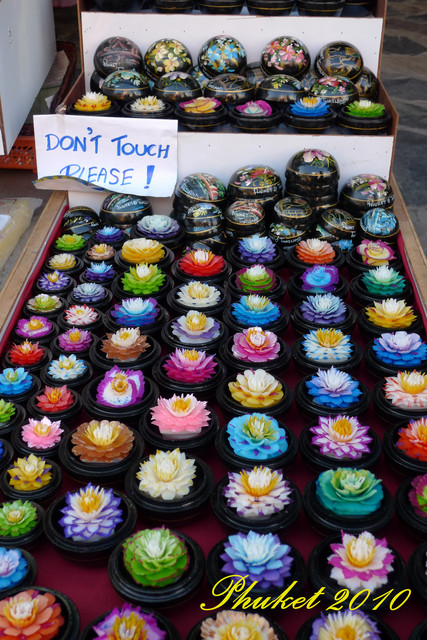 After half an hour traipsing the streets and enjoying the local culture, we decided to check out the local mall (silent cheer from myself, yeayyy! =)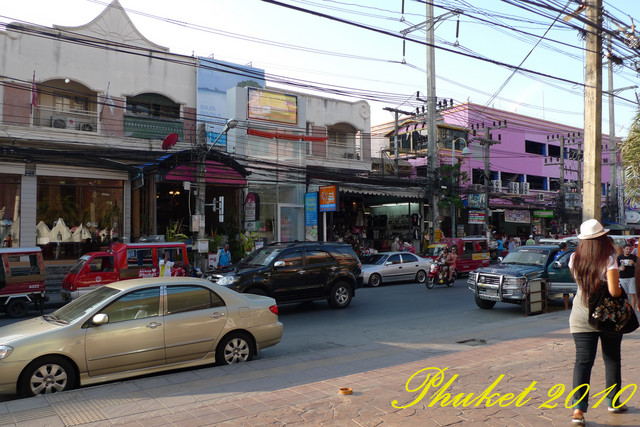 Welcome to Thailand...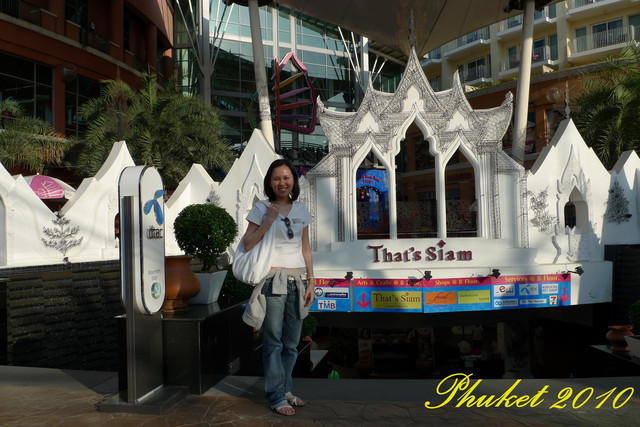 The mall is home to a large Carrefour and their local retail store and also a few massage parlours and cultural market at the basement area.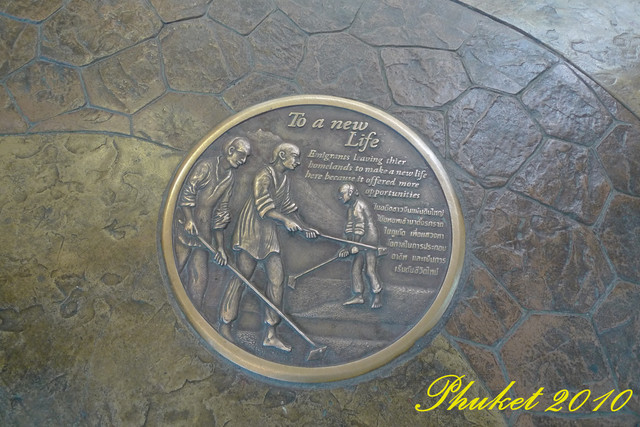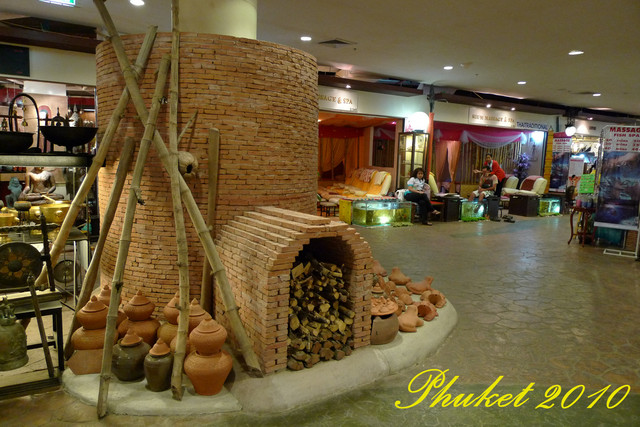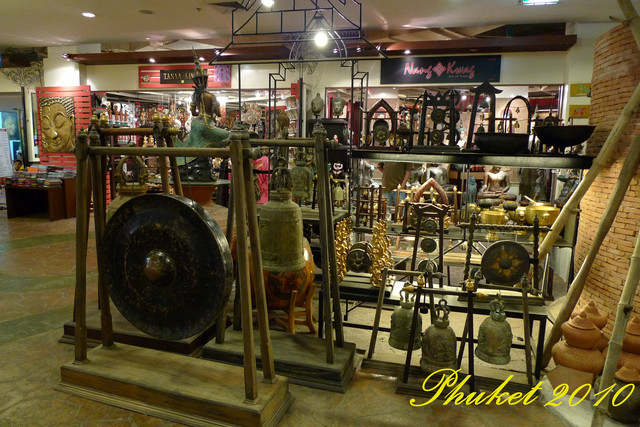 To be continued...