Continuing from the previous post, we utilized our leisure time in the one and only mall on this tourist island; Jungceylon which hosts a variety of shops from apparel to groceries and to souvenirs.
It's like being in Central Market when we walked around this place!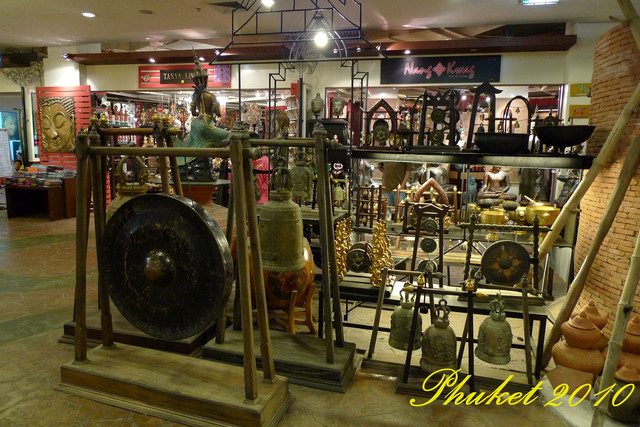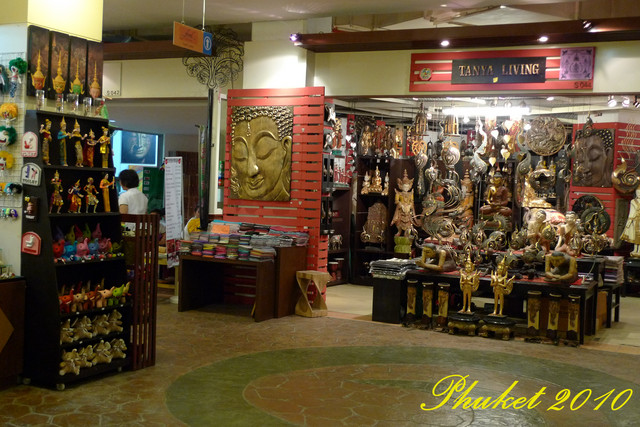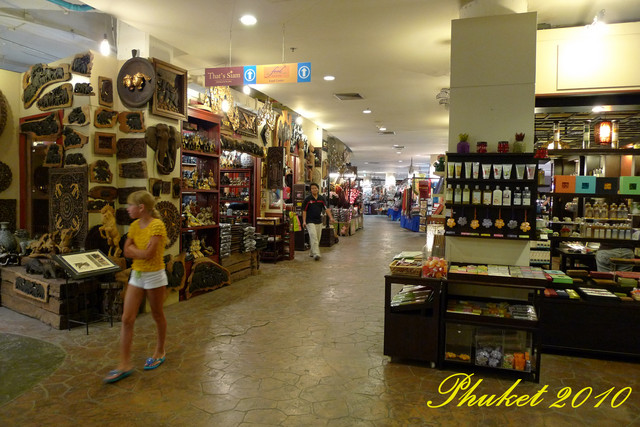 These dolls are my favorites; and I would love to have them all in my collection.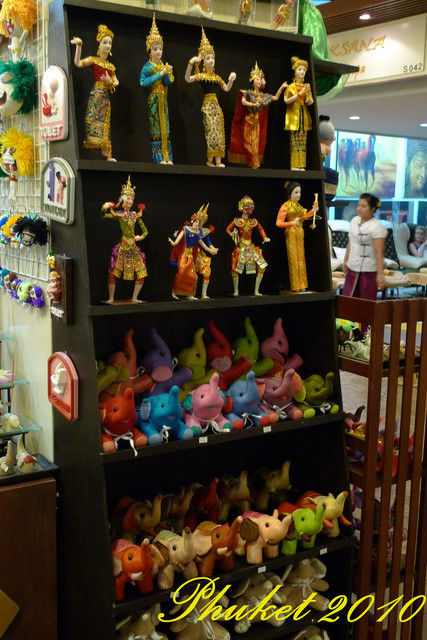 Perhaps they remind me of the friendliness and hospitality of the locals in all the places I have travelled to, and I would love to own one of these figurines each from the country that I go to.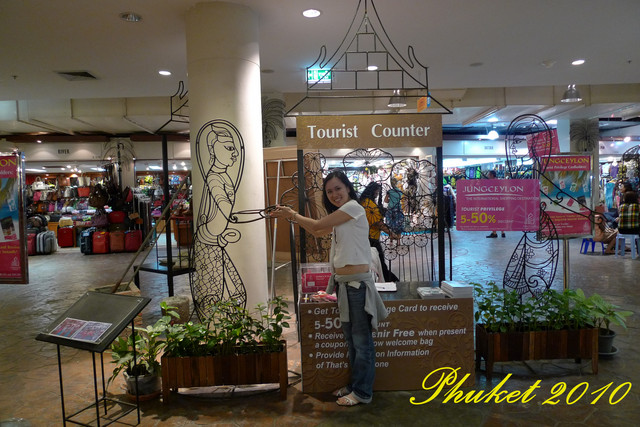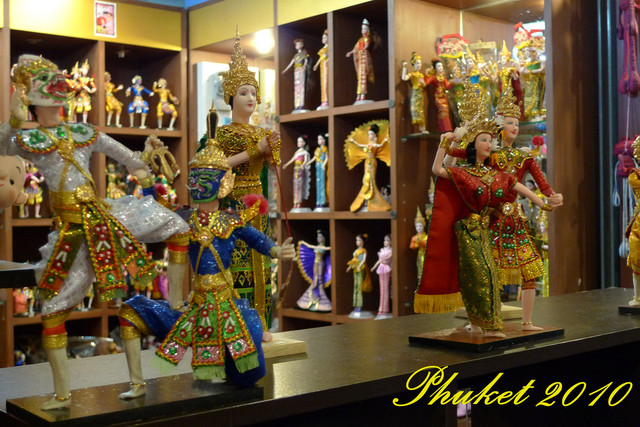 Alas for me, sometimes I find them too highly priced, and furthermore, you can see all these in every country. In Malaysia, you can also find these figurines from China, Thailand and even Mongolia if you want! There goes the unique factor!
Massage parlours and spas are common and highly popular in this place and you can find yourselves being beckoned endlessly by the enthusiastic therapists to try their services.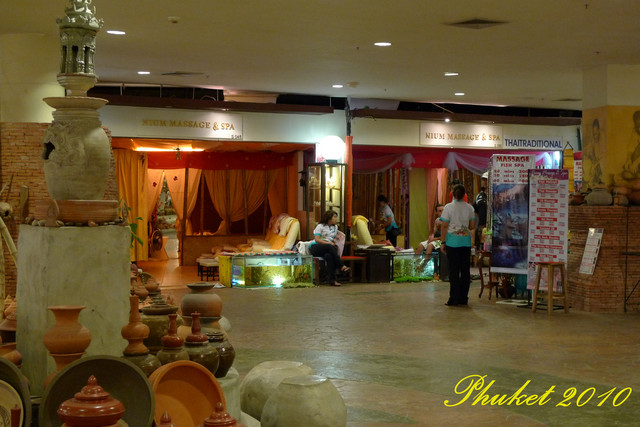 It was quite reasonably priced, to say the least, only I was not quite keen on having myself being caressed by a stranger or being trampled all over.
I am not too adventurous, huh?
Of course, besides being familiar with this environment which is all too close to home with all its colorful and myriad culture, I found myself enjoying the close ups with the traditional instruments on display.
Back at home, we rarely see this anymore unless we make a trip to the cultural village or even the museum!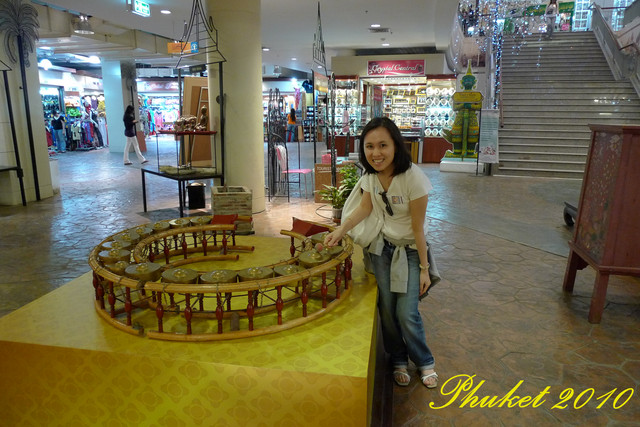 Yeah, that is the price for living in the city!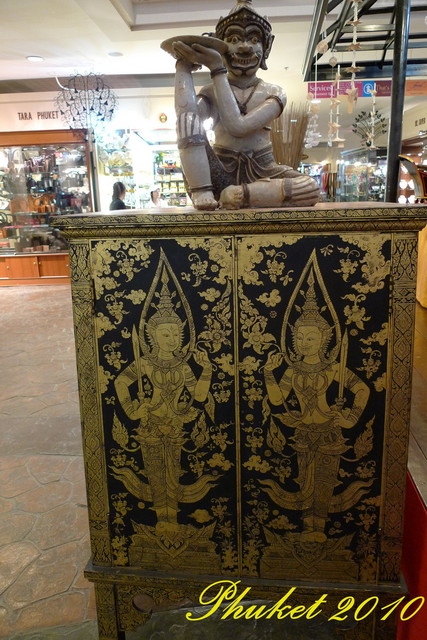 Thai deities are highly regarded in the society, and as in other societies. In fact, staunch believers are highly respectful of their deities and are often obedient to their teachings. Perhaps it is due to the fearsome exterior, as one of my colleagues say.
However, for me, deities are all there to protect and to guide us on the right path and there is no reason to fear unless you have done something wrong or illegal which are frowned upon by your religion.
When night falls, we had to hurry to our next destination to meet up with the rest of the troupe; and there we go, the three ladies who even went to Carrefour to grab a few bottles of mineral water to last us for the next few days and also tidbits.
Along the way, we could not resist the night lightings in the mall and just had to have a quick session of camwhoring, LOL!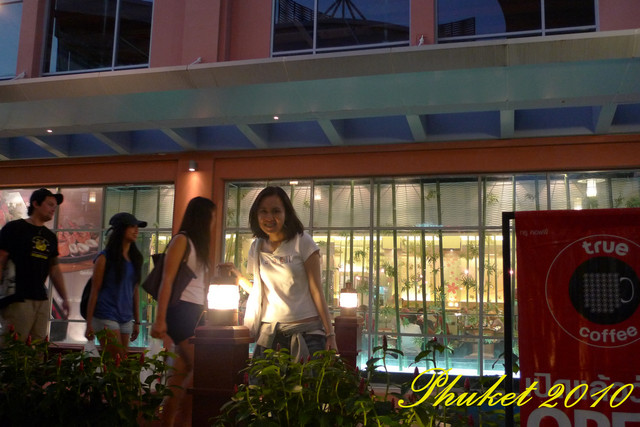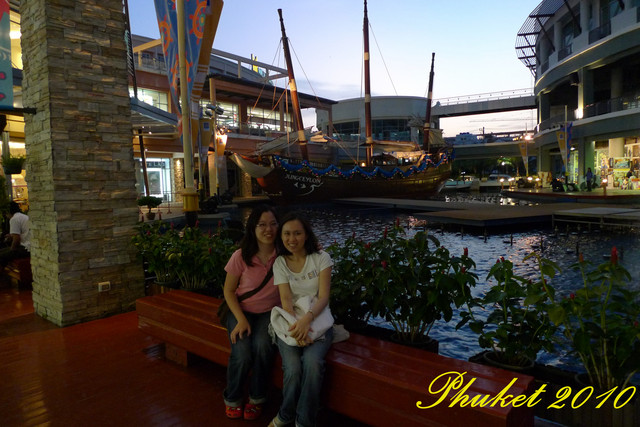 Hahaha...we were definitely city-breds, well proven that!
Dinner was a rather flamboyant affair; as our boss had chosen the nearby Tiger Inn Restaurant for our lavish first night dinner.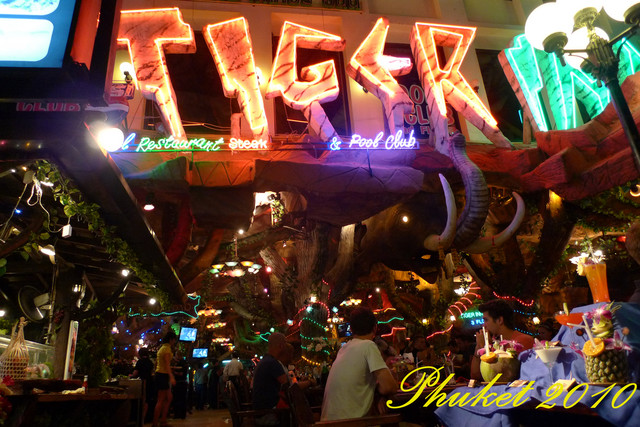 Being the first few ones there (surprisingly, since the three of us honestly thought we were late due to our shopping and all), we were told to go ahead and do the food ordering.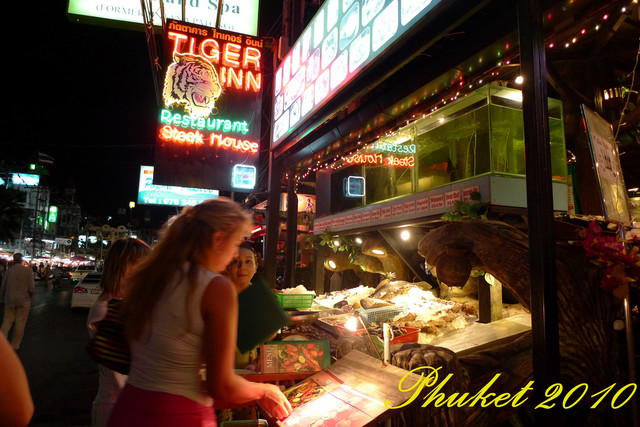 Looking around at fresh seafood(literally on the rocks), and flipping the photo-filled menu, it was rather confusing and in the end,I just left the job to the other two secretaries while I continued to enjoy my little rendezvous with my camera *grins*
The restaurant was brightly lit and music was definitely loud; which was probably one of the main reasons why it was packed with foreign tourists during the hour.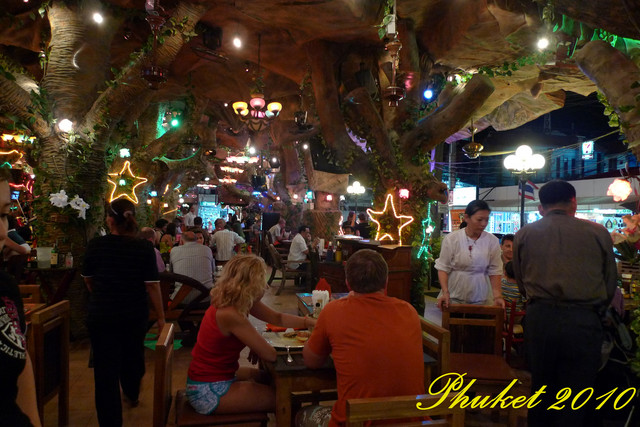 The waitress who served us was rather friendly as she muttered all the recommended dishes at the top of her voice; which I think was a feat to top the loud noises in the background.
The place was uniquely furnished with that of a treehouse-feel where it gives you the feel of dining in the woods; of course, the loud music and the overly lit opposed to that eventually.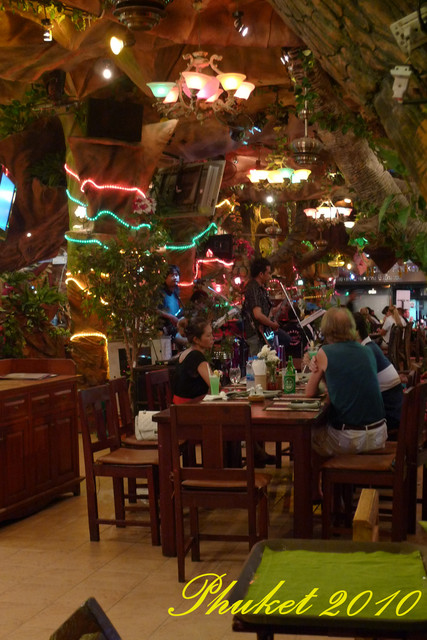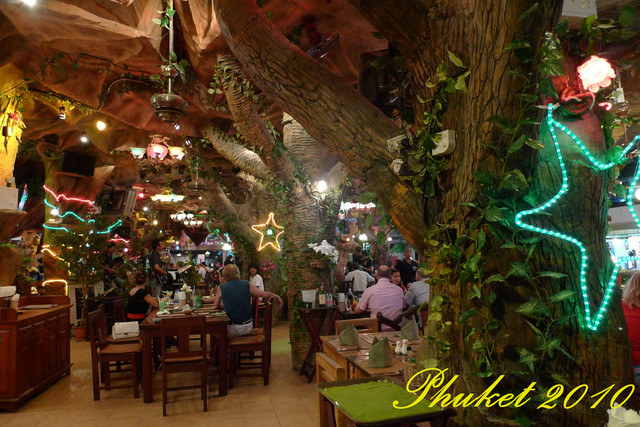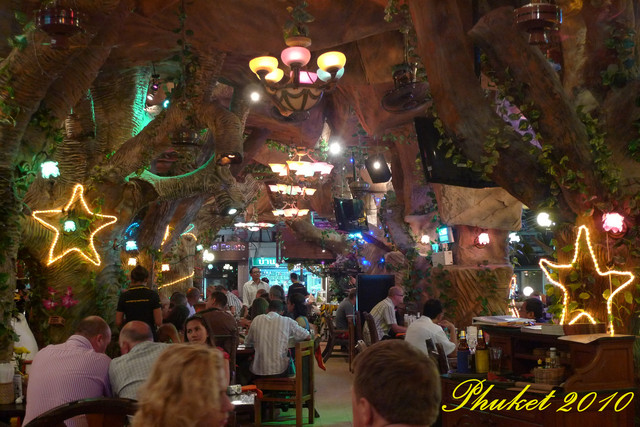 Nevertheless, I still liked the unique interior design of this restaurant; which I think have been inspired by the touch of nature and wilderness.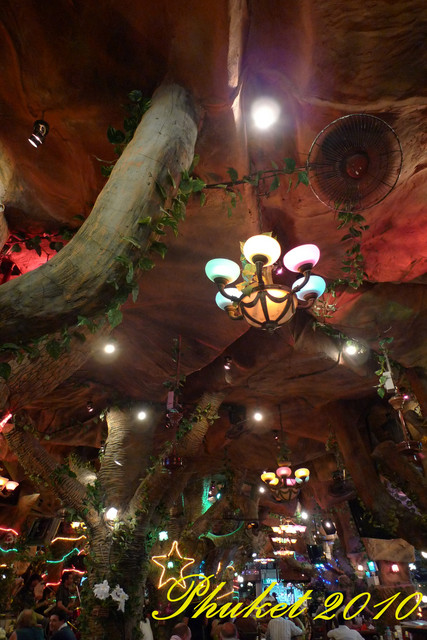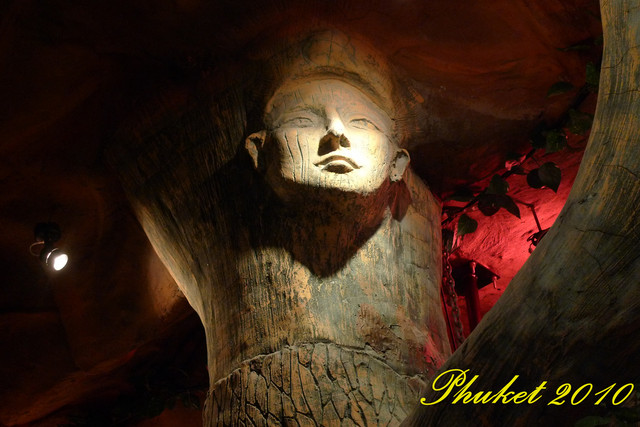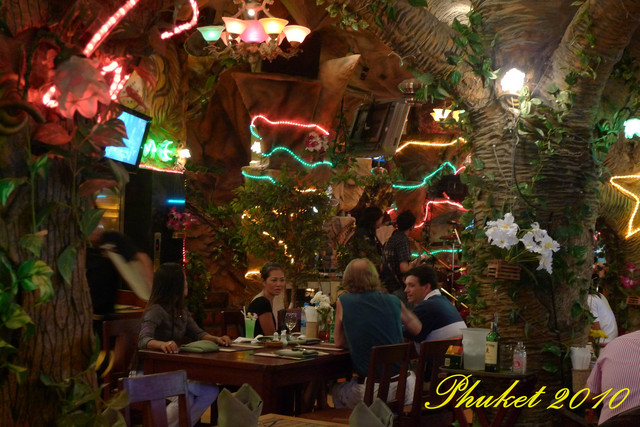 It was an exhausting day after hours of walking and all those late/irregular meal times; and furthermore the hot weather and the lack of water consumption has led us all to dry/cracked lips and weak and wobbly legs by the time we sat down.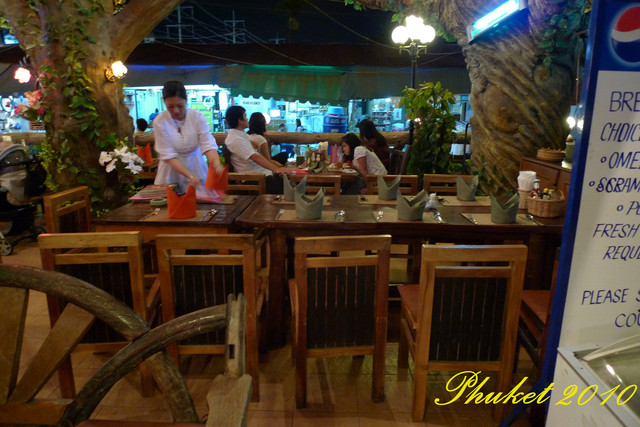 My option to cure my personal dehydration; Coconut water (again).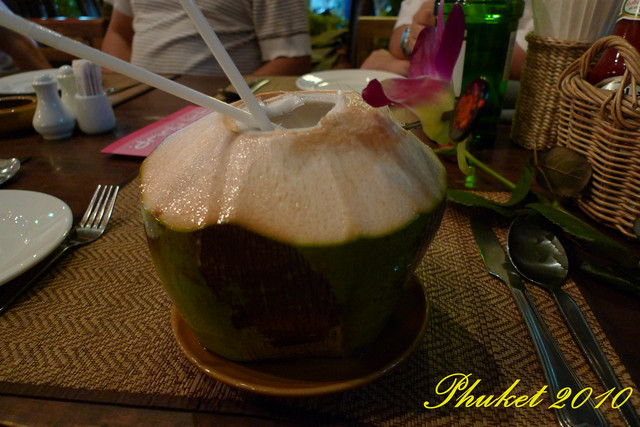 This was definitely more refreshing and cooling compared to any iced-water; tops that.
We had to wait for a while for our food as the place was packed to brim with the tourists and foreigners waiting to have a good time during the happy hour.
Clear tom yam soup; honestly, it tasted more like water loaded with tons of pepper and salt.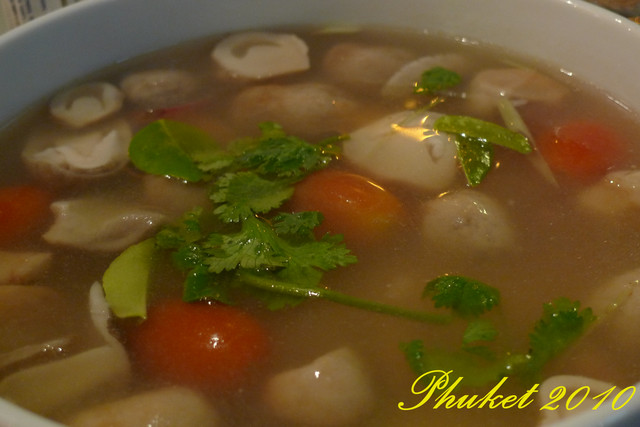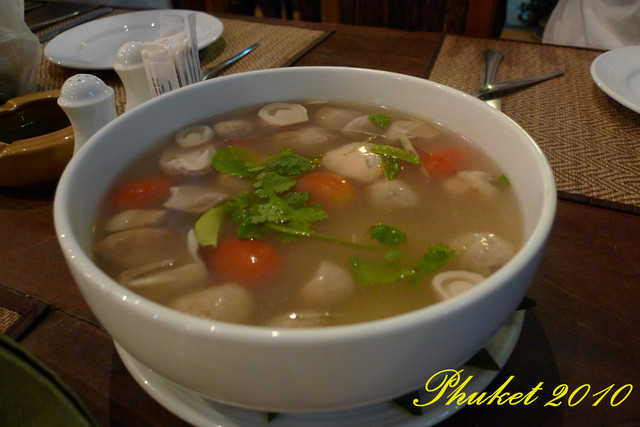 I was clearly not having much of an appetite despite my exhausted self.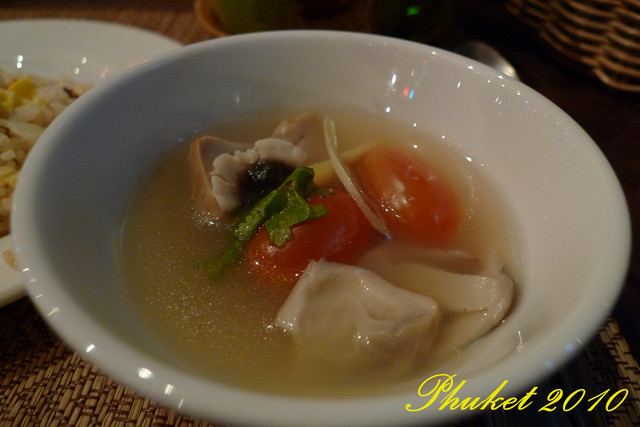 Plain fried rice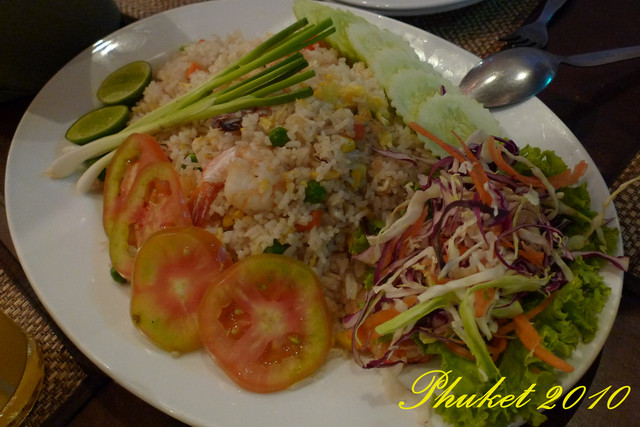 I think my boss/colleagues clearly spawned high affections for this dish; as they seems to be ordering it everywhere they go.
It was nothing spectacular, and I even felt that our own fried rice back at home tasted ten times better.
Stir-fried mixed vegetables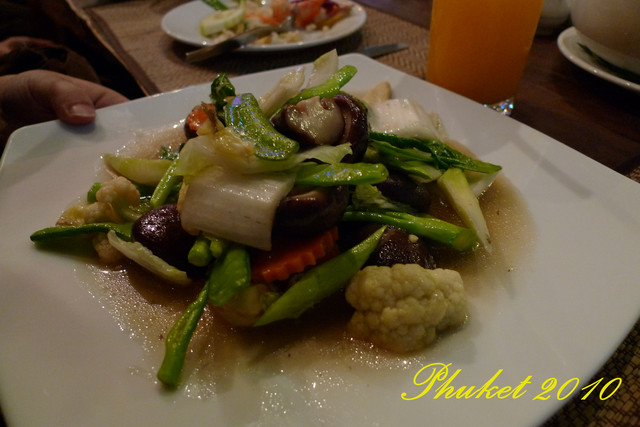 Asparagus and mushrooms in oyster sauce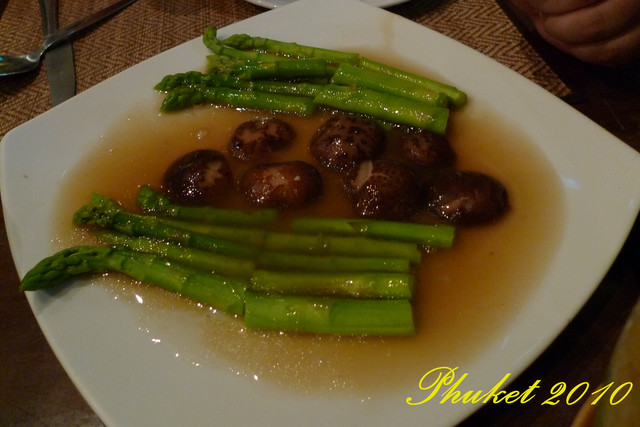 Pineapple fried rice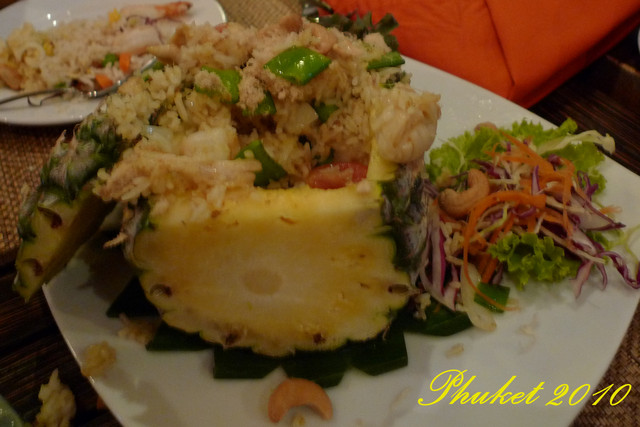 If Tom Yam Goong is a must-have, then this is second which tops the list. However, this is definitely not impressive nor one that should be recommended for your debut trial at this fried rice.
Steamed red snapper in soy sauce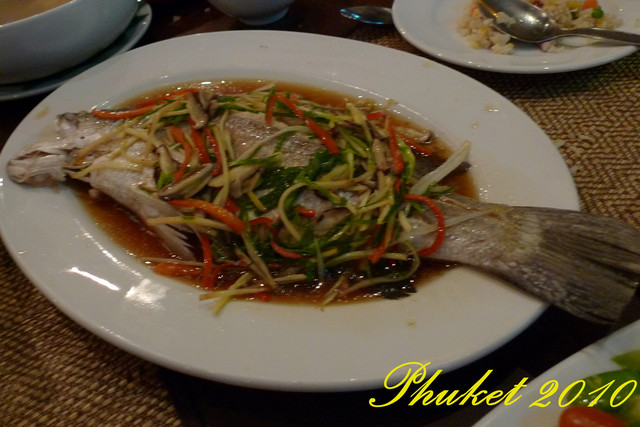 This is the controversial fish which caused chaos later; during our bill settlement which I shall explain later in the post.
Green curry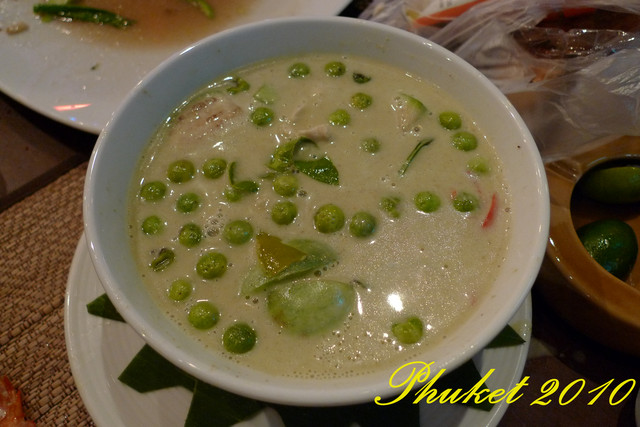 This was a wrong order; but it looked more appetizing than the rest of our own ordered dishes. I think this brings a new meaning to the Grass is Greener on the other side?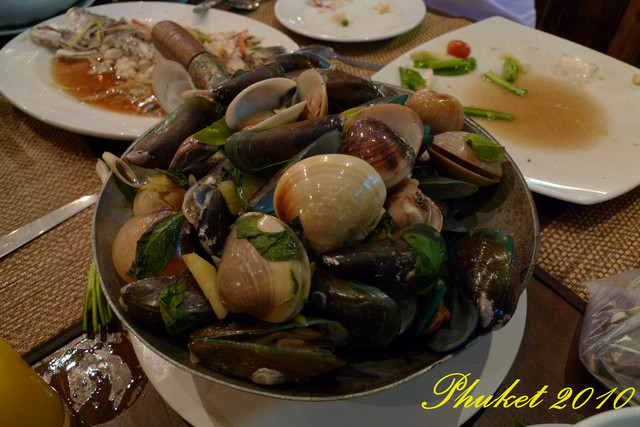 The main highlight of the dinner; the lobster done in the sweet and sour Chili style.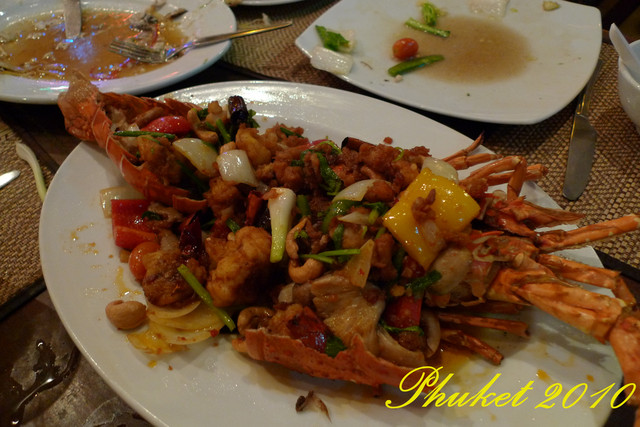 Honestly, no offense to those ordered or recommended this, but lobster done this style is just so wrong!
It is just not the right way to enjoy the freshness and juicy part of the lobster and I was surprised that the rest of the folks were enjoying it.
I think it was just pure enjoyment of the heavy taste emitted by the gravy or the marinated part which was tasty and the whole lobster was just wasted.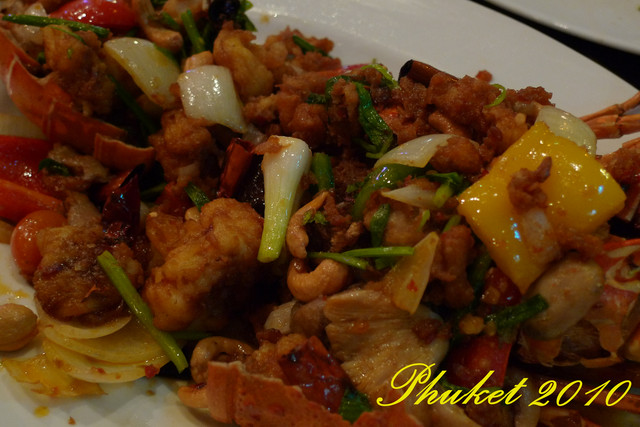 I think it was really oily too! Again, a waste of a good lobster and taste!
For the final round, a few of the guys wanted to enjoy the raw oysters; and there they go.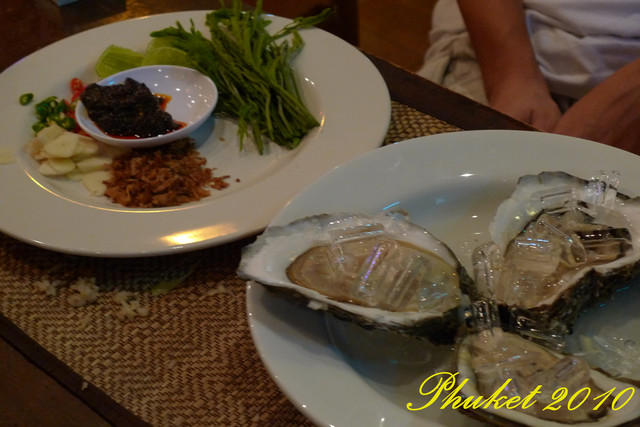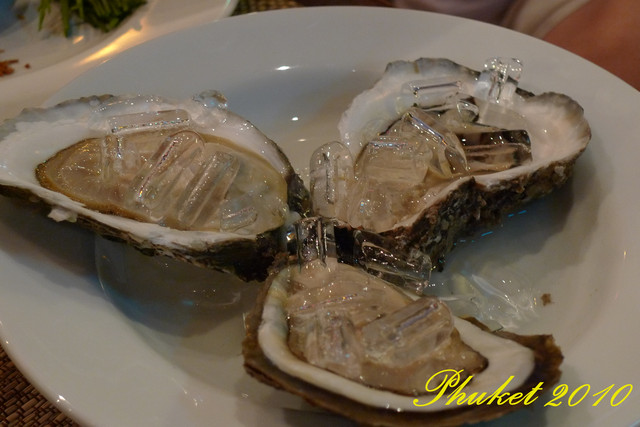 I am not the adventurous type; hence I would not enjoy it anyway =P
When we asked for the bill, we realized that we were being charged for two fish.
As you can see, in my photos, we only had one steamed red snapper and they insisted that we ordered another steamed pomfret or some expensive fish.
They kept saying that our people ordered the fish in front of the shop; which were the two secretaries.
Anyway, after much argument, they grudgingly gave in but they insisted that we pay for the expensive fish instead and will cancel the other fish.
It was so unfair and we all felt cheated; had we known, we would not have even ordered any fish.
It was truly a bad end to the first day here; and already I had a bad impression of the Thais. It was disappointing!
It was late by the time we finished dinner (yeah, we had a late dinner) and we decided to call it a night by then.