If you come all the way to Pangkor Laut Resort and did not try out their award-winning spa services, then you missed out on the good stuffs.
As we were signed up on the honeymoon package, we were scheduled to enjoy a four-hours spa and relaxation session provided by the professionals here at the Spa Village.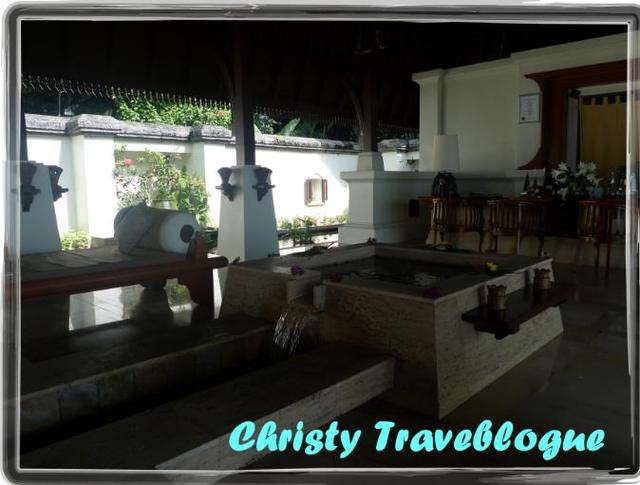 The spa sessions here are exclusive and though they have the standard packages, they also customize according to each individual needs following a consultation with their experts (who are certified doctors and professionals by the way) to optimize the benefits of the spa.
Their services and facilities have received great reviews and feedback from experts; putting them at the top spot for Best Destination Spas and many other rewards.
Hearing all the fab reviews, I was just more than excited to try out their spa!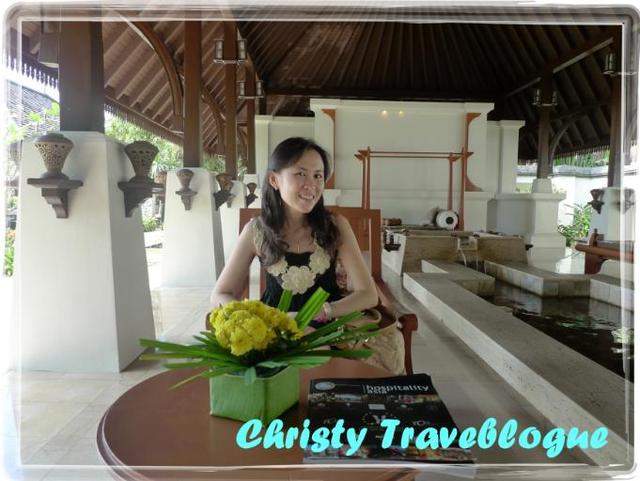 It was one of my lovely hubby's thoughtful plan for me to just unwind and relax those tension from the wedding planning. He wanted me to just enjoy myself and have a good time, thank you hubby!:)
Just sitting at this pavilion while waiting for my spa session already made me feel so relaxed!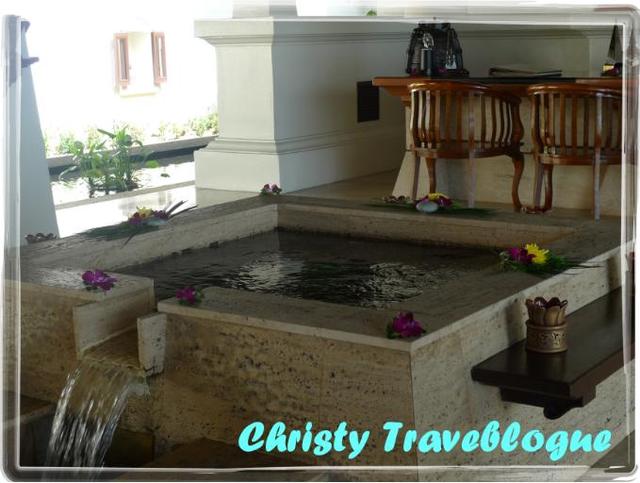 The design here is influenced heavily by the Balinese style and is obvious on the architecture of the pillars and ceilings.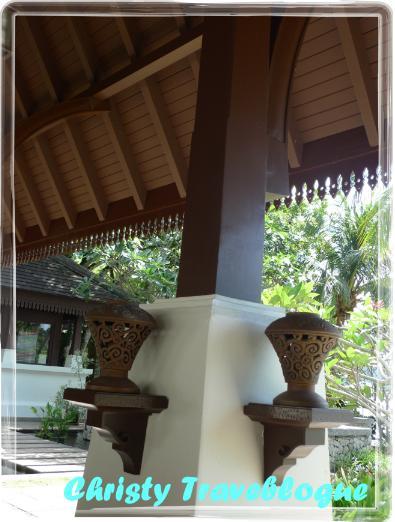 The view from where I am sitting; overlooks the Infinity Pool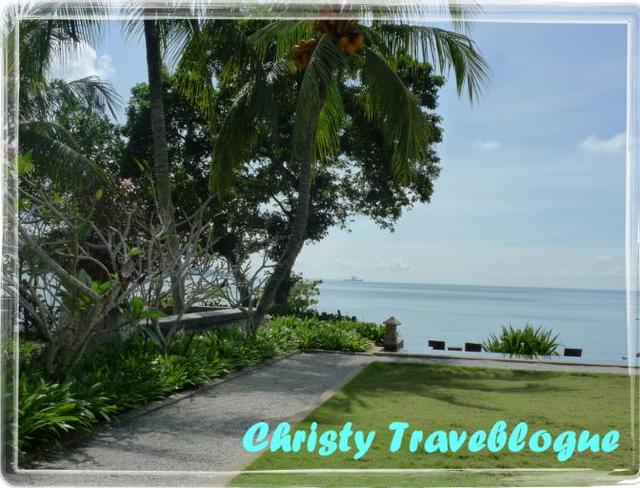 We were served a chilled and refreshing drink which tasted of orange and lemongrass with a light tinge of ginger (or so I thought)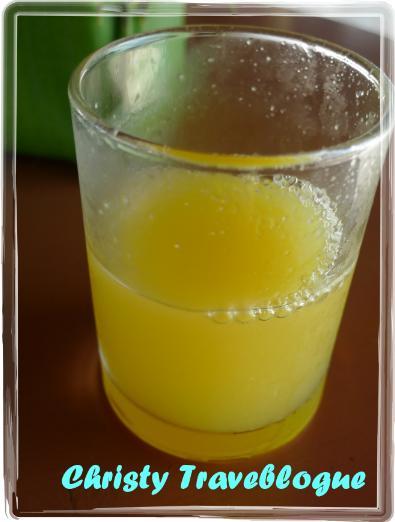 We didn't have to wait long as we were scheduled on their appointment list, as I have mentioned, and soon we were attended to by our individual masseur; yes, even if it's a couple session, we still have our own dedicated masseurs.
(They do make us feel like kings and queens around here!)
Our Masseurs were of Indonesian origin; or more specifically, Balinese and they were very friendly and spoke good English.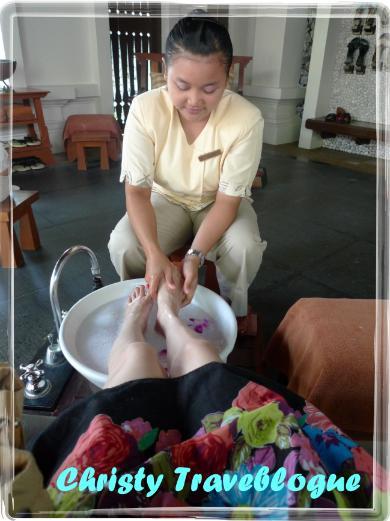 We started with a simple foot massage.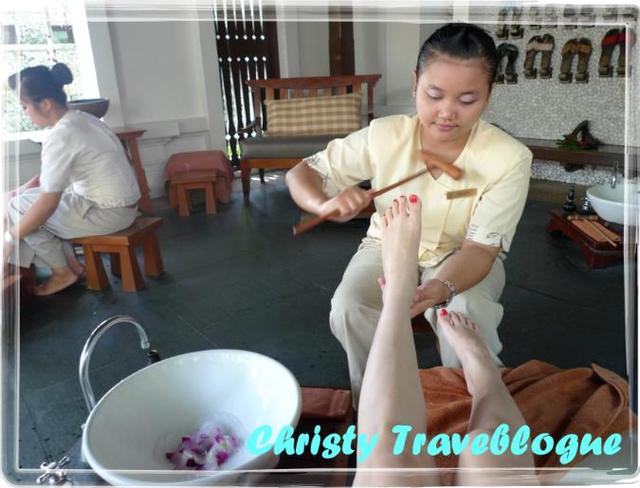 (This is an ancient tradition to relax and promote blood circulation; as I was told)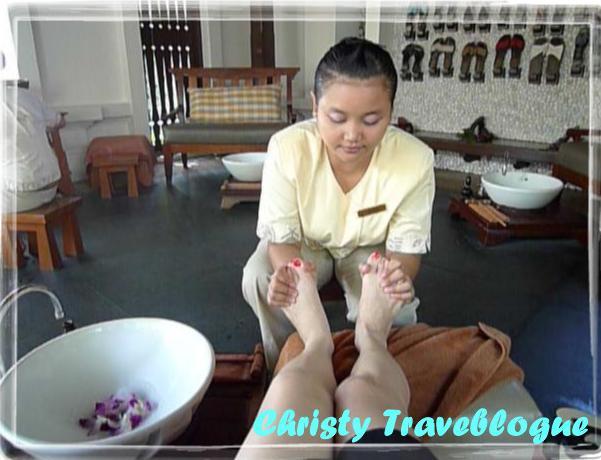 It certainly helped me to relax a little.
After that, we were led to our changing rooms, and this is where our photography session ends as we changed into sarongs and led to our full spa session; which includes a cold shower/dip in a clear pool, followed by a Japanese bath; onsen, and then relaxing in a hot spring pool.
Chilled green tea was served after the hot bath.
There was then an exfoliation session, and we were both united at the steam room.
(Yes, the above sessions were all separate)
After steaming ourselves for as long as we like (or could stand), we enjoyed a milk bath in a jacuzzi bath tub with massaging motion turned on, to our liking. There was hot tea or plain water served at this time.
We then proceeded to our massage session, and that was my favorite part.
It helped me to relax and I almost fell asleep! (that's the purpose anyway;)
We were then led to our private nap gazebo to enjoy a short nap, until the masseurs came to wake us up.
I felt rejuvenated and relaxed after the whole session, and I enjoyed the lemongrass with ginger juice I was served at the end of the session.
I developed some redness as I had extremely sensitive skin, which was probably due to the temperature change and the nature (the session was out in the nature). There were also insect bites, but the masseurs and therapists took good care of it when I informed them by applying their traditional ointment/balm on the affected spots.
They just thought of every little thing!
It was a lovely session, and I enjoyed every second of it.
I will definitely come back one day to try their spa again, definitely world class services and facilities! :-)