As the saying goes, 'When in Rome, do what the Romans do' and this applies to China or any other country one visits as well in order to soak in the local culture and experience for oneself the diversity.
That was the main reason that we took a walk off the beaten path; away from the busy streets with all the fancy and luxurious restaurants and also the familiar faces of the fast food outlets to do a little exploring on our own and find a place where most locals were having their lunch.
Of course, with the help of our knowledge of the Chinese language (thank God for that when you are in China), we strayed off the main and busy streets and walked into the small lanes and alleys.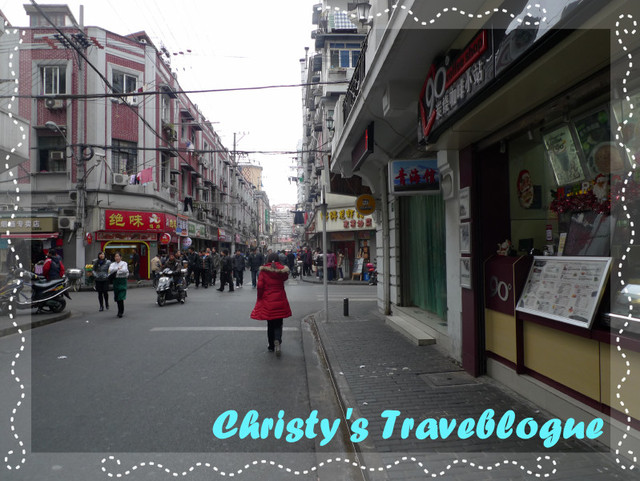 The small lanes are dotted with little eateries and stalls, where one just buys off the cart or the steamers and there is barely place to sit. Busy city dwellers and lunch goers are spotted buying their lunches from stalls like these and running off with their lunch in plastic bags.
There are also really small eateries which were packed with people and there are only 2-3 tables available inside the shop.
We walked further and found two larger eateries; well, one was actually a restaurant and the other was crowded with people.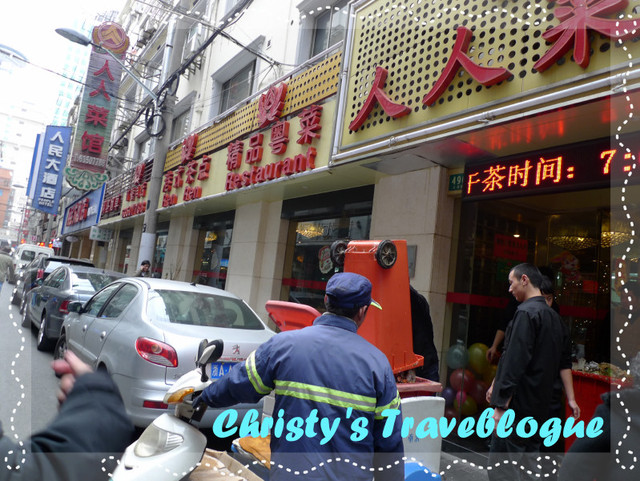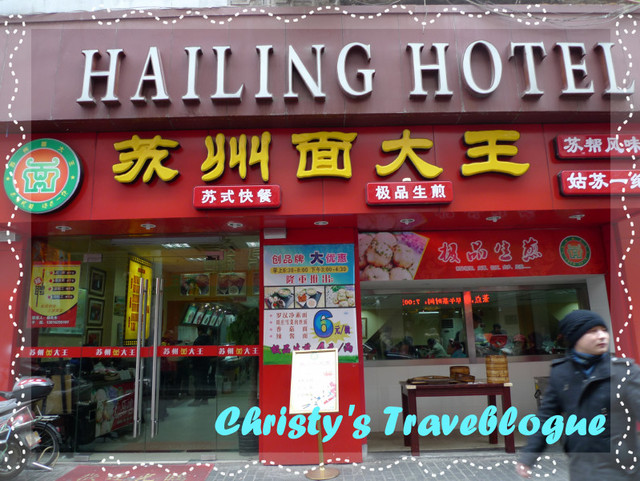 Well, as it seems, the latter seemed to fit the bill perfectly and we knew it when we set foot into the shop which served fast lunch (economy style) and also famous noodles, from ironically, Suzhou.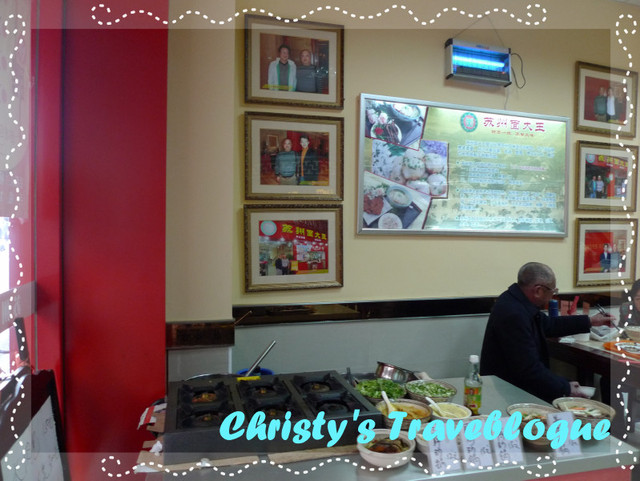 There were two levels located inside the shop; with a makeshift platform for a half level upstairs for more dining tables.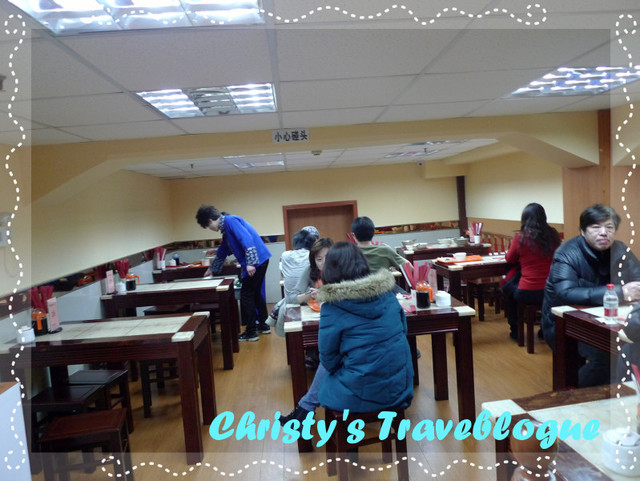 It was a good thing that the lunch crowd was starting to disperse when we were there, although we did have to share a table with a guy who was having his lunch alone.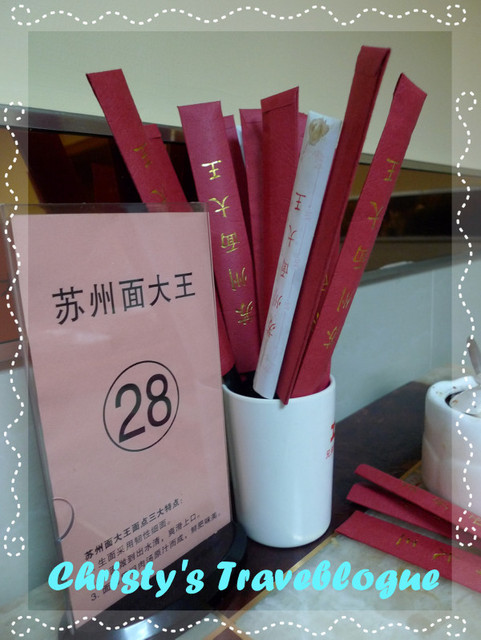 There is still one habit of the Chinese I could never get used to, and that is having to spit or cough even while having meals.
I don't even want to imagine that spit pot underneath each table, and well, as they say, if you were to eat like the locals, you will have to get used to their practices.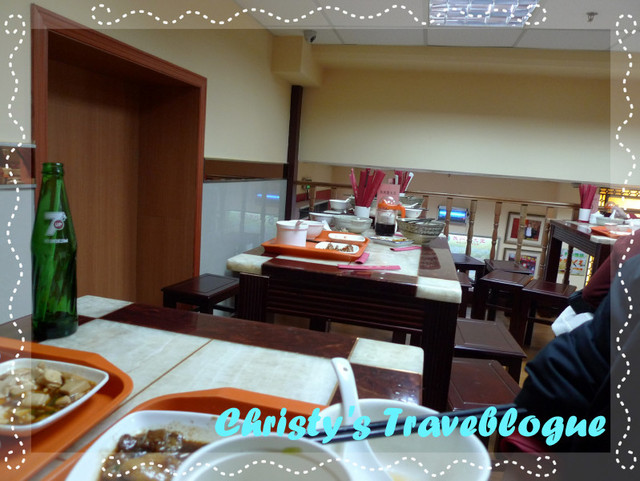 A glimpse of our lunch, a proper meal with three dishes, a soup and white rice; typical of a normal Chinese meal.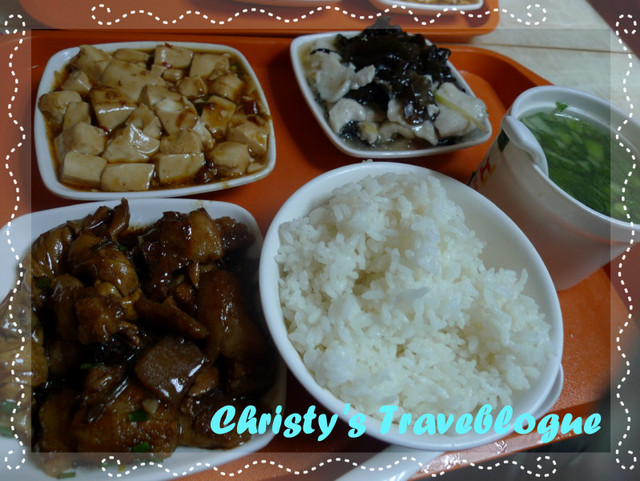 The price was quite reasonable for such a filling meal too; it cost only about RMB14 for this, which approximates to MYR7 for lunch.
You can read about the full details of lunch in my food blog
here
One thing to note, don't expect high standards of hygiene in local eateries like these though, as I have mentioned above.
If you are extremely picky, I'd advise fast food or the modern dining outlets (which I do prefer sometimes too, due to the hygiene levels)
However, it can be fun too, to venture to the local favorites and enjoy the local experience.
Though, a word of caution; be sure of where you are heading to and keep to the path where you know where to return to and beware of suspicious characters.
Don't act like you are lost even if you are, and just be cool and steady.
Of course, the best is if you have a GPS or a local guide with you if you do not know Chinese. That way, you can explore even more local eateries with better food and prices.