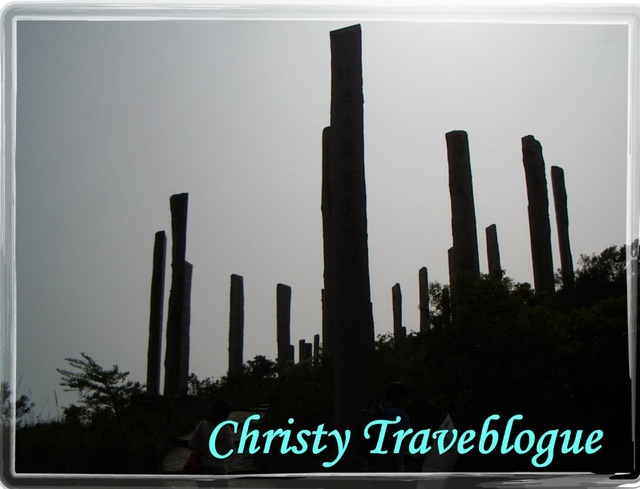 Continuing from my last post on Lantau Island, about the Giant Buddha and the colorful Po Lin monastery, comes another hidden attraction tucked away in the woods which many may not know about although it is gaining popularity through blogs and local tv series filmed on the location.
The
Wisdom path
, is the underdog, having been outshone by the major attractions which are so widely popularized by the tourism pages and the media.
You see, though it may be known to the tourists, but usually the crowds would have limited time and the focus is always on the famous Buddha statue and also the temple, and there may not be sufficient stamina to visit this place which requires a few minutes of walk away from both the tourist attractions.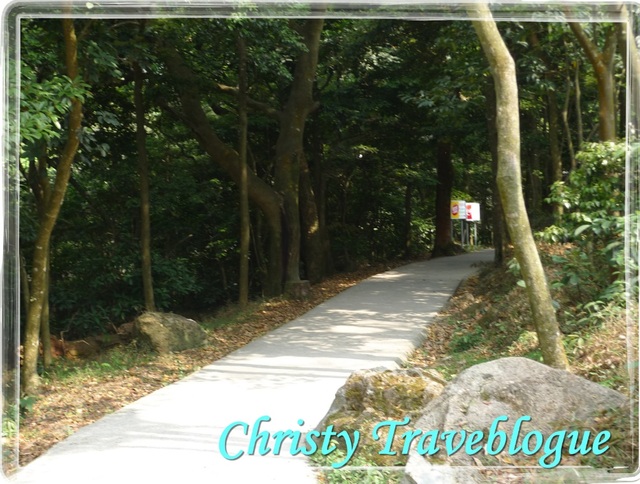 However, I do recommend, if you have the time, to just enjoy a quiet 10-15 minutes walk leading to the
Wisdom Path
.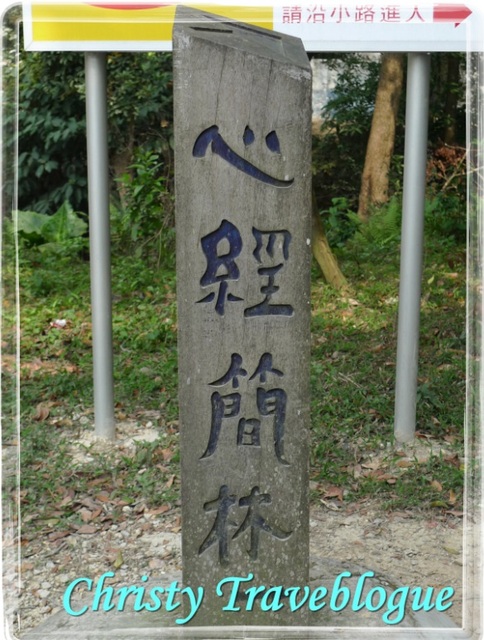 It may sound like a drag, but you will treated to the scenes of nature as you pass by a
tea garden
in the process. Be ready to welcome the light scent of tea leaves along the way.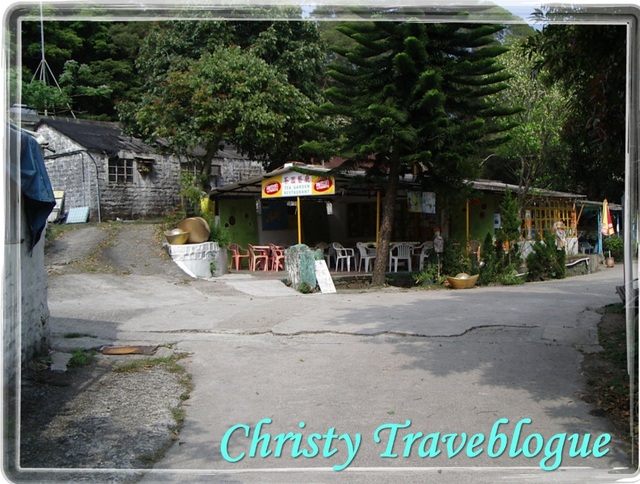 It is a rather quiet and peaceful walk along the way, and I recommend it if you are with a partner (if you are a lady), just in case although it should be pretty safe.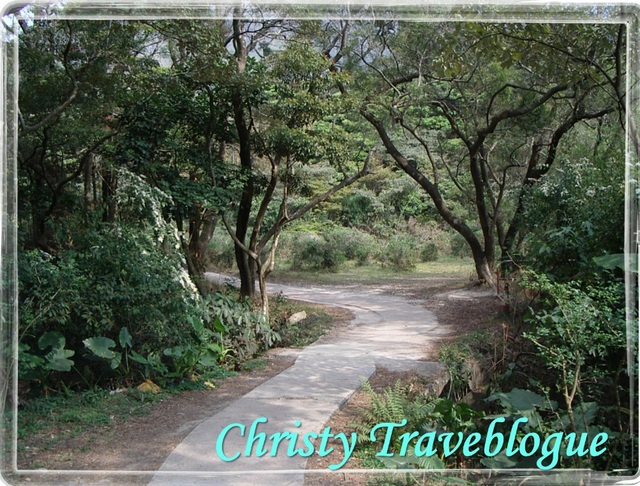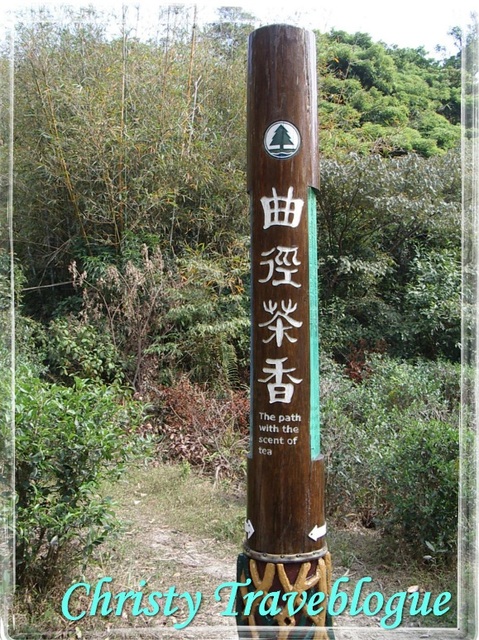 You do not have to worry about not being able to find your way or getting lost, as there are signs to watch out for along the way, and they are pretty visible to guide tourists to stay on the trail.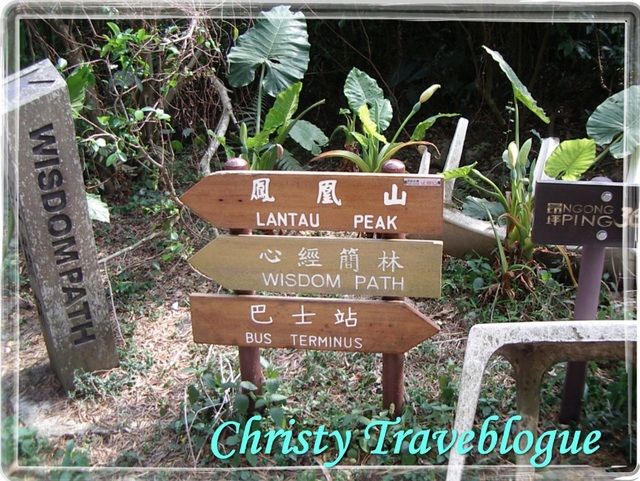 When you are greeted by tall blocks standing in front of you, like they are displayed in a collection, you have arrived at the
Wisdom Path.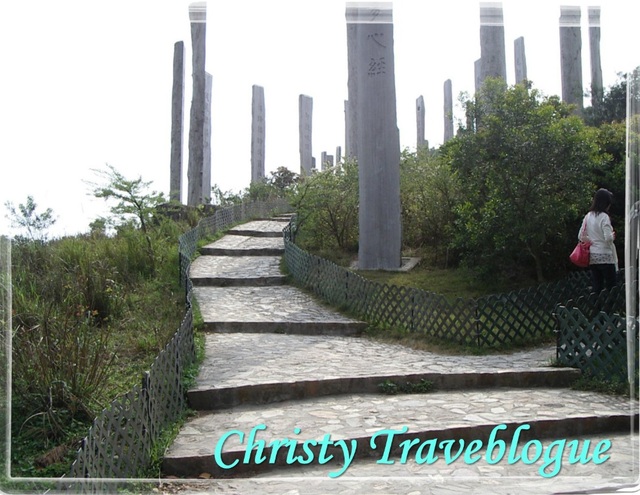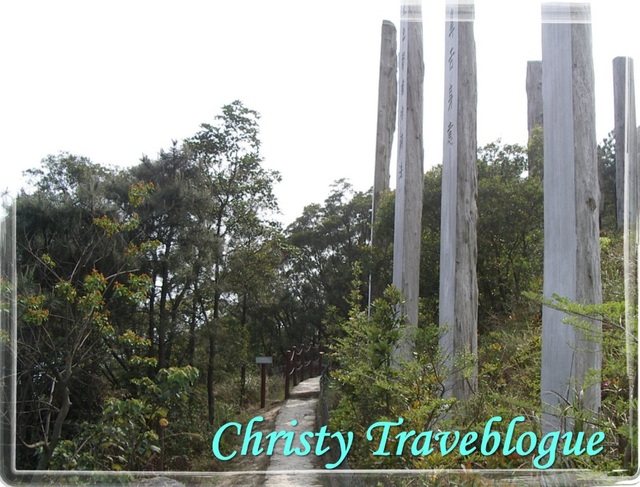 Behold the sight of the beautiful mountain, which is also the
Lantau Peak
as the background for the wooden inscriptions standing which form the Wisdom Path.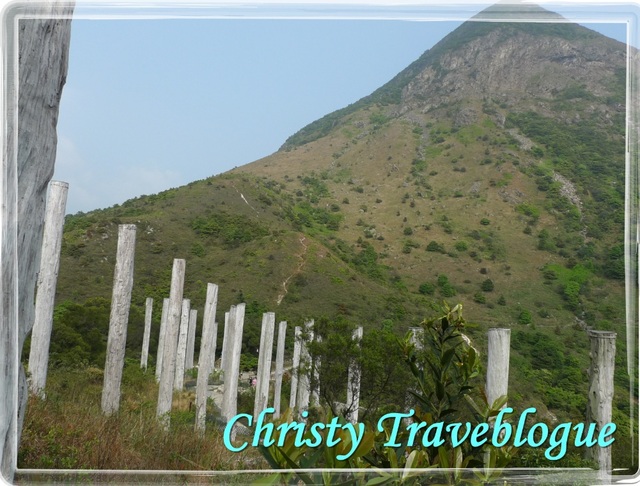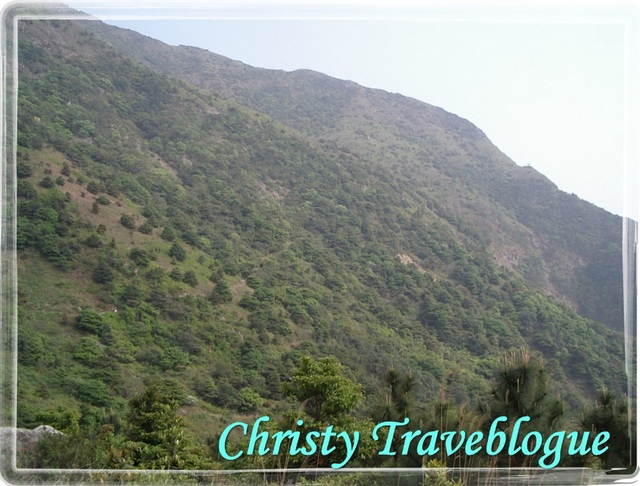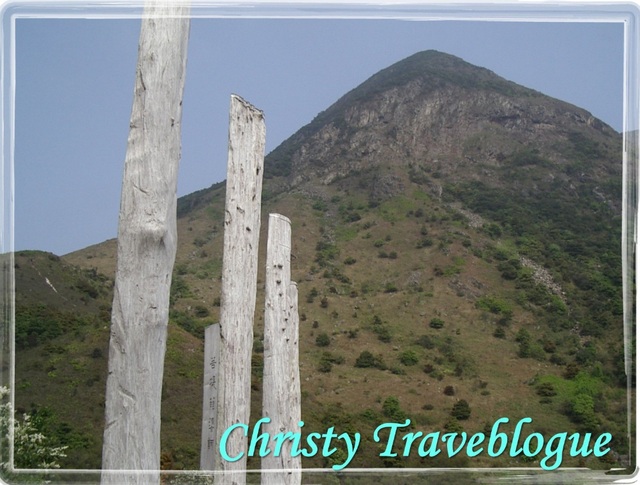 Now, the next question that may pop up in one's mind would be, what is so special about a dozen or more wooden planks standing in the middle of the woods?
These wooden blocks are all wooden inscriptions from the Buddhism
Heart Sutra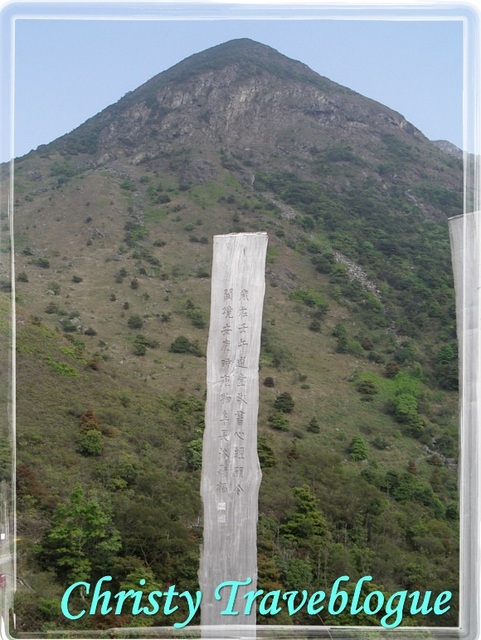 A little on the
Heart Sutra
, also known as the
Mahayana Sutra:
The full name of this Sutra is Prajna Pramita Heart Sutra; where Prajna means wisdom and Pramita is perfection in Sanskrit. This is one the shortest sutras available; as it only contains 260 words and is best known as Mahayana Sutra, or in short, Heart Sutra.
Probably due to the length of the sutra, this is also one of the most popular sutras around.

The sutra focuses on the concept of 'emptiness' and may not necessarily be that easy to understand. The emptiness emphasized in the sutra has nothing to null, void or zero; but rather that everything that exists in this world is dependent on other existences and there are always conditions to fulfill. Due to this same fact that everything exists based on dependency, nothing could sustain for eternity and that there is always a relativity of all beings.

To understand this doctrine on 'emptiness', one must be ready to accept that everything around us are subject to constant change and nothing stays stationary. It is a concept to understand that we have to adapt to the changes and evolution continuously take place and that we should appreciate things at the moment and at the same time, not get too attached to each and every one of them.
It is only through that way, we can achieve perfect harmony and peace within ourselves; physical and mental and we can be free of worries, living our lives happily. It is an ideal situation and people would live their lives not holding on too tightly to materialism and at the same time, appreciating each and every one thing in our lives.

It is then that the idealisme of 'emptiness' can be achieved.
If you observe the inscriptions, you will find one in particular which is empty, without any word carving on it.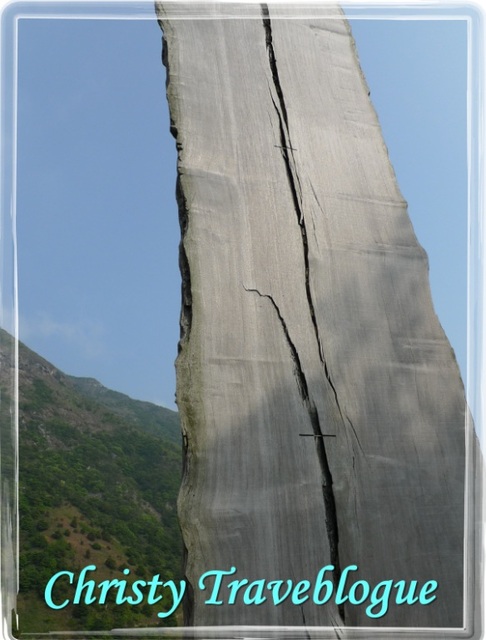 This is the symbolism of
'Emptiness'
.
Also, if you are observant enough, you may also find that the wooden inscriptions are positioned in a very unique layout design; whereby they are arranged in the form of the figure '8', which signifies infinity in the context.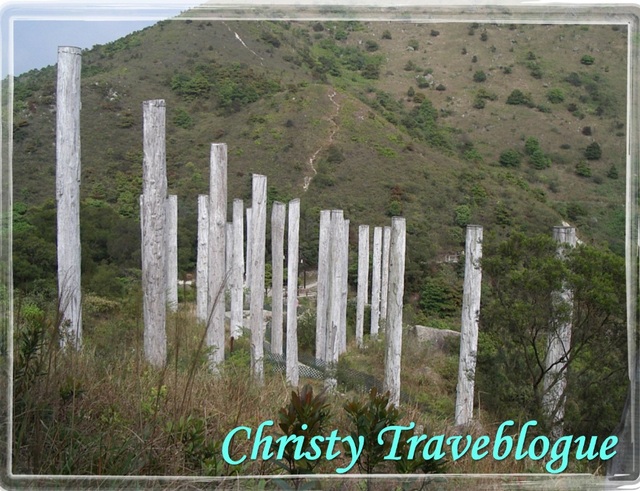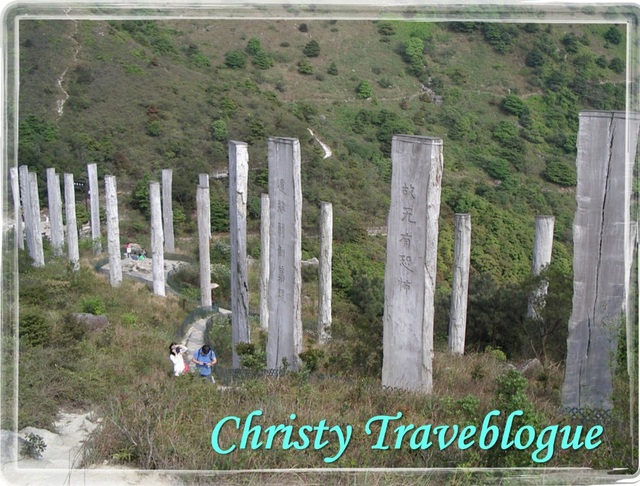 Although this is my second time here, I still feel that this is a very fulfilling walk and it provided a deep sense of serenity as I observe these inscriptions of wisdom. It is not fully about religion alone, but more of an idealisme of life and being a Catholic, to me, as long as the teachings tell us to do good and not harm others, they are good :)
There is a hut nearby for a short break/rest before making your way out.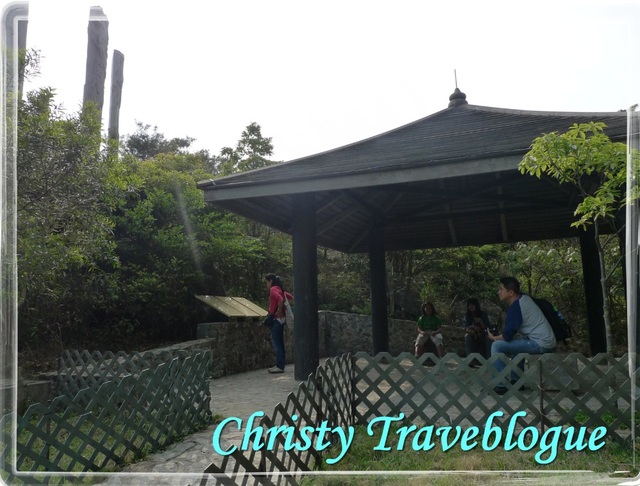 Also, if you are into hiking up the second highest point in Hong Kong, you can consider starting from here to
Lantau Peak.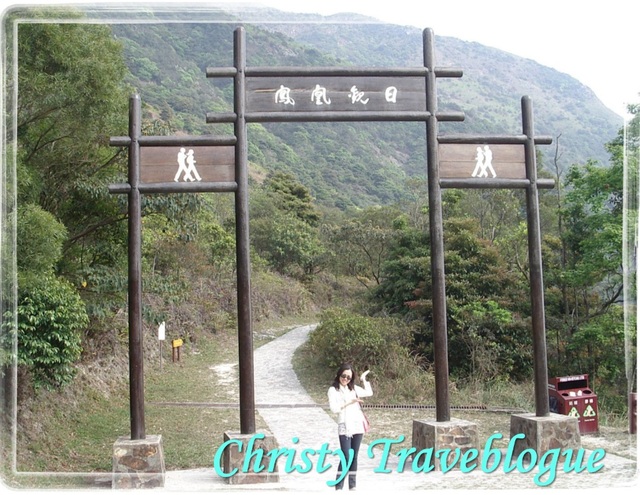 I am sure this is a fantastic place to watch the sunrise, as it was mentioned on the wooden signs next to the beautiful phoenix statue.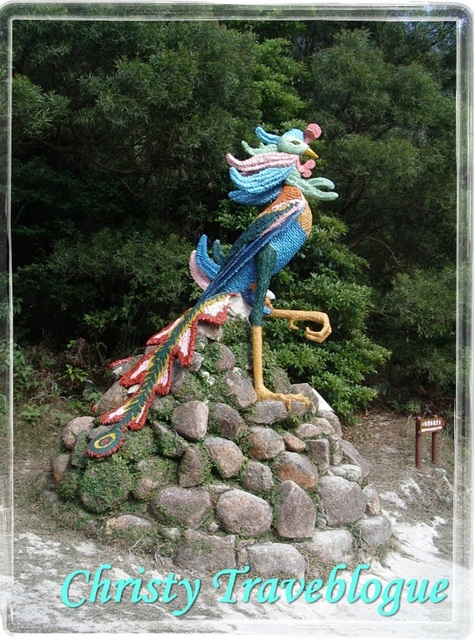 I enjoyed words of wisdom like these, it makes one more whole on the inside as well as physically to be able to understand and to enjoy teachings that have been passed down for centuries.
It is a good thing that this sutra had been translated since the 3rd century A.D into Chinese (21 translations) and have made its way around the whole world; and was even preached daily by the holy men.
It is not easy to fully understand the sutra, I am sure, although it sounds easy from the translation, but for one to fully understand, one has to experience to truly say, they have seen it all :)
I did feel wiser, now after trekking the Wisdom Path, did you? ;)